Dragon Fruit Smoothie Bowl
This post may contain affiliate links. Read the affiliate disclosure here.
This dragon fruit smoothie bowl is a quick, easy, and tropical breakfast recipe! Also known as a pitaya bowl, this smoothie is vegan, dairy-free, and ready in minutes. It contains just 5 ingredients, including mango, banana, raspberries, and plant-based milk. Add your favorite toppings and enjoy it with a spoon!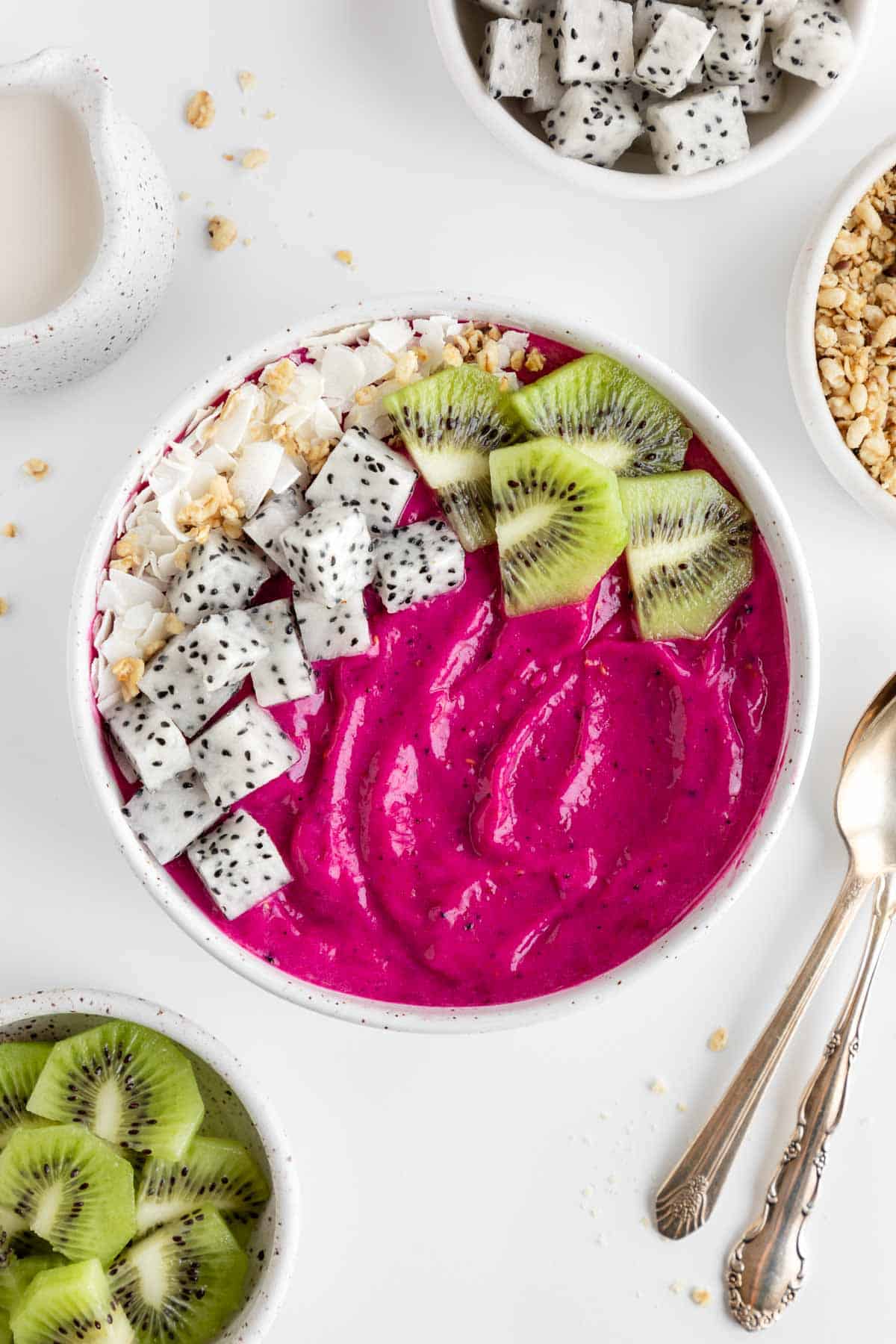 What better way is there to begin the week than with a bright pink smoothie bowl? This healthy breakfast is a guaranteed way to start the morning with a smile. It's refreshing, nutrient-packed, and perfect for the warm spring and summer months. The tropical flavor will instantly transport you from kitchenside to oceanside. 😉
Only a handful of ingredients are needed to create this exotic-looking bowl. Combine dragon fruit with banana, mango, raspberries, and plant-based milk. Give it a whirl in your blender, add toppings, and devour it all with a spoon. It takes just 5-10 minutes to make!
This dragon fruit smoothie bowl is:
Vegan, dairy-free, soy-free, and refined sugar-free
Refreshing, sweet, and a beautiful fuchsia color
Made with just 5 ingredients
Easily customizable with options for add-ins and toppings
Great for kids due to the fun color
A super easy and healthy breakfast recipe!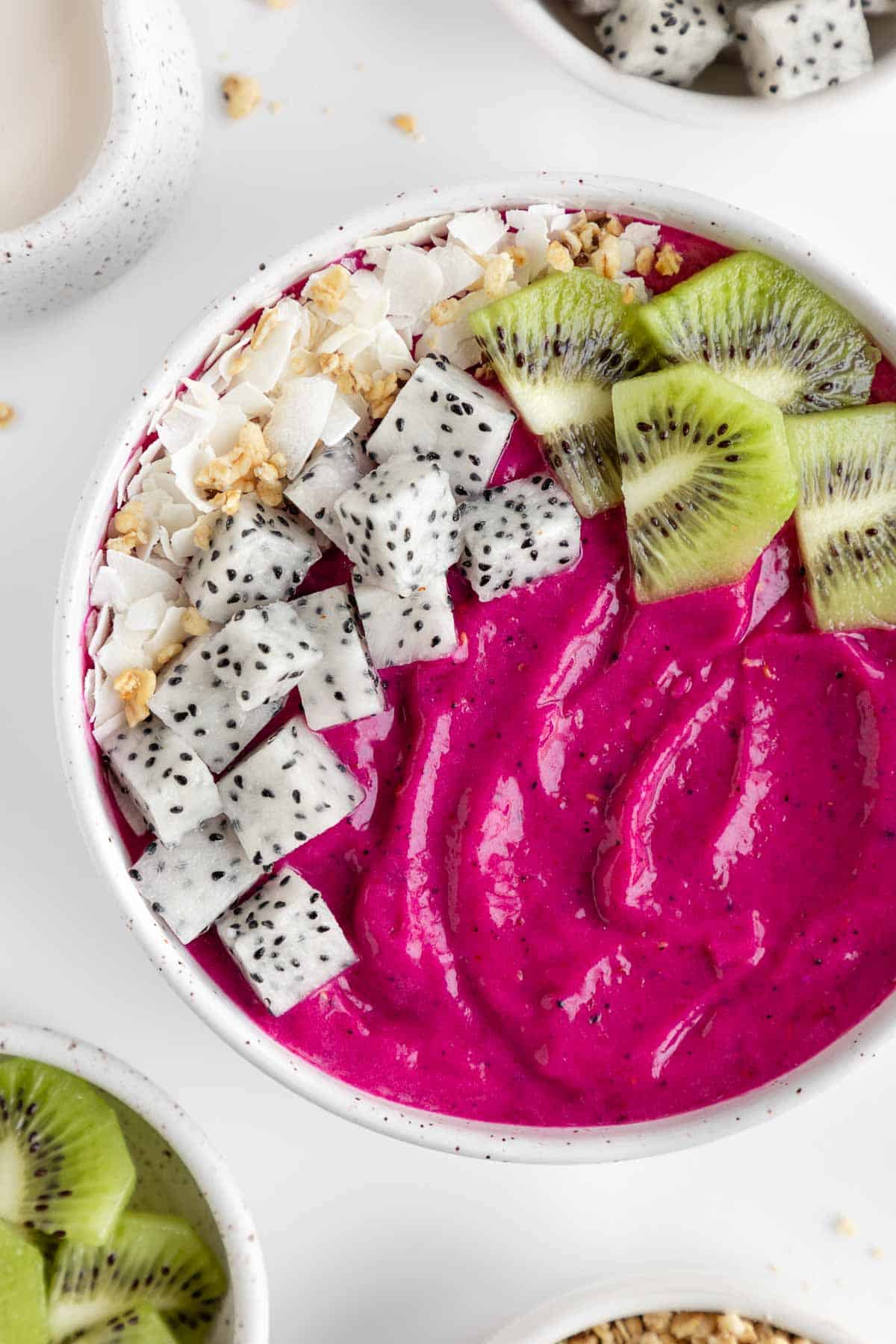 What is dragon fruit?
You may know dragon fruit as the exotic-looking fruit with a cool name… but what exactly is it? Let's break it down.
Origins
The first thing to know is that dragon fruit goes by several names, including pitaya, pitahaya, and strawberry pear. It is a tropical fruit native to Central America, but grows in several parts of the world today.
Appearance
Dragon fruit varies in its appearance. The most popular variety has red skin with green scales coming out of it. Yes, green scales! Some believe the skin resembles a dragon, which is where the name originated from. This variety can have white flesh with black seeds or red flesh with black seeds. When it comes to smoothies and smoothie bowls, the red flesh is often used. This is, of course, where the beautiful fuchsia hue comes from. A third variety, yellow dragon fruit, has yellow skin with short thorns. The flesh of this variety is also white with black seeds.
Flavor and nutrition
Although dragon fruit has a fascinating appearance, the flavor is quite mild. Typically, it is compared to kiwi fruit, melons, and pears. Some even feel it is practically flavorless. In my opinion, red flesh dragonfruit is more flavorful than the white flesh varieties. This is merely my opinion, and I am willing to bet it's just a mind trick!
Like all fruits, dragon fruit has several health benefits. It is a low calorie fruit, contains fiber, and provides magnesium, vitamin C, iron, and vitamin E. Read 7 Great Reasons to Add Dragon Fruit to Your Diet to learn more about the benefits.
Popularity and price
Dragon fruit has become increasingly popular in recent years. Like açaí bowls, pitaya bowls are being added to breakfast menus and juice bars everywhere. Grocery stores are frequently adding all sorts of dragon fruit items, including frozen pitaya packets, dragon fruit cubes, pitaya powder, and dragon fruit chips.
Why is dragon fruit so expensive? There are a few reasons for this. Firstly, this is a result of simple supply and demand. As dragon fruit gains popularity, the price increases. Secondly, it is an exotic fruit. If you live in the United States, your dragon fruit is (most likely) imported from parts of South America. Naturally, this will make it more expensive than locally-grown fruits. Additionally, it has a long growing period which leads to higher costs.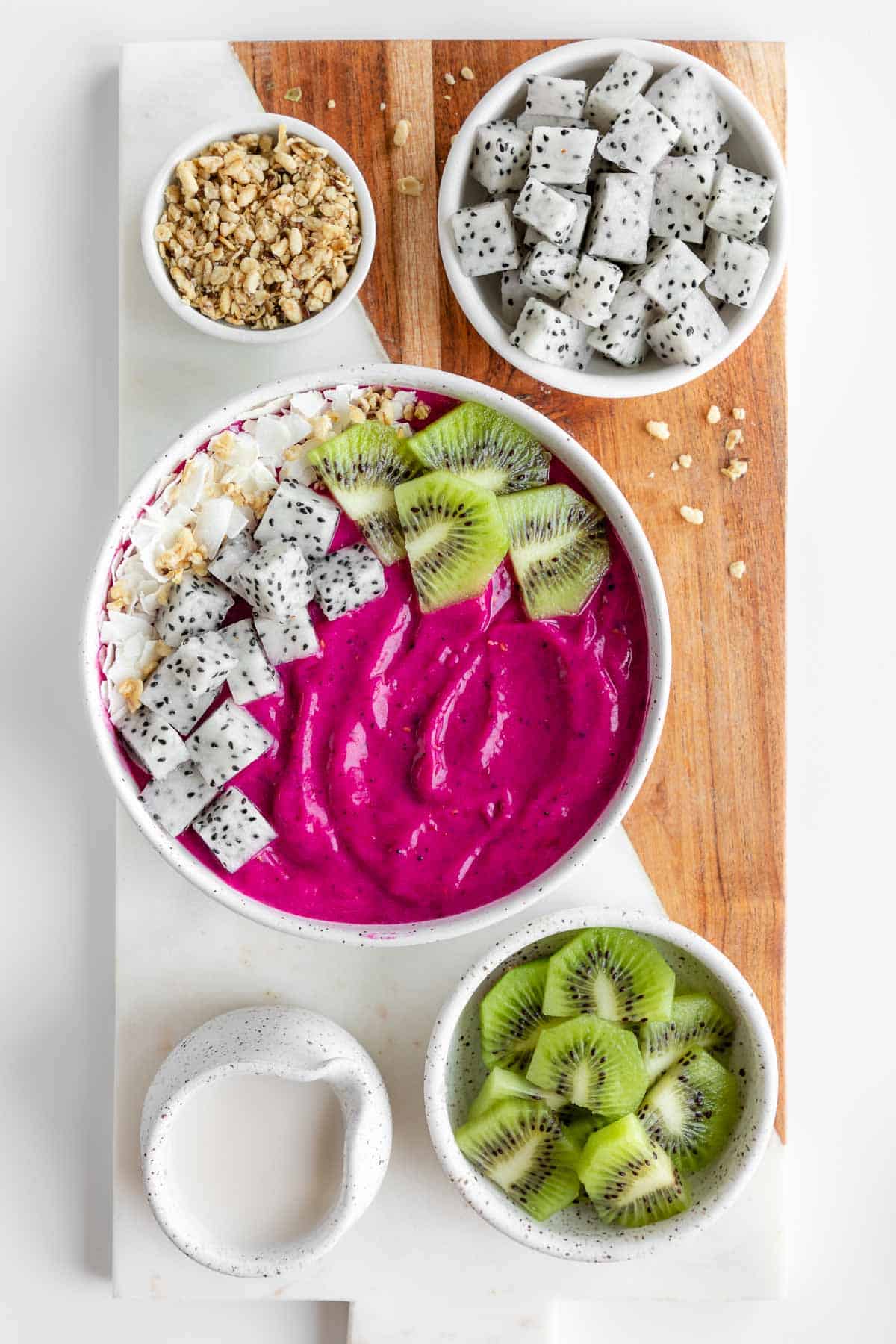 What is the difference between dragon fruit and pitaya?
As mentioned above, dragon fruit and pitaya are the same thing. The names are used interchangeably and refer to an identical fruit. When an ingredients list includes "dragon fruit," you can swap that for "pitaya" while shopping. So don't get confused searching the store for one name while passing by the other name.
What is a pitaya bowl made of?
As always, I recommend using frozen fruit for smoothie bowls. Frozen fruit gives the smoothie a super thick and creamy consistency. The texture is similar to soft serve ice cream, and it's thick enough to hold toppings.
Dragon fruit: a single frozen dragon fruit packet (also known as pitaya packet) is required for this smoothie bowl recipe. If you cannot find frozen packets at your local grocery store, use 1/2 cup frozen dragon fruit cubes instead. Be sure to use the variety with a red flesh. If you use the white flesh, your smoothie will not have a bright pink appearance.
Banana: frozen banana creates a creamy consistency. Use a ripe banana that has a yellow peel with brown spots all over it. Ripe bananas are sweet and result in the best flavor. To freeze a banana, remove the peel and store the banana inside a bag or container in the freezer.
Mango: mangoes have a tropical flavor and pair well with dragon fruit. They are also rich in vitamin C.
Raspberries: raspberries are loaded with antioxidants and help deepen the pink color of the smoothie.
Plant-based milk: use any type of plant-based milk, such as almond milk or coconut milk. If you are not following a vegan or dairy-free diet, you can use dairy milk.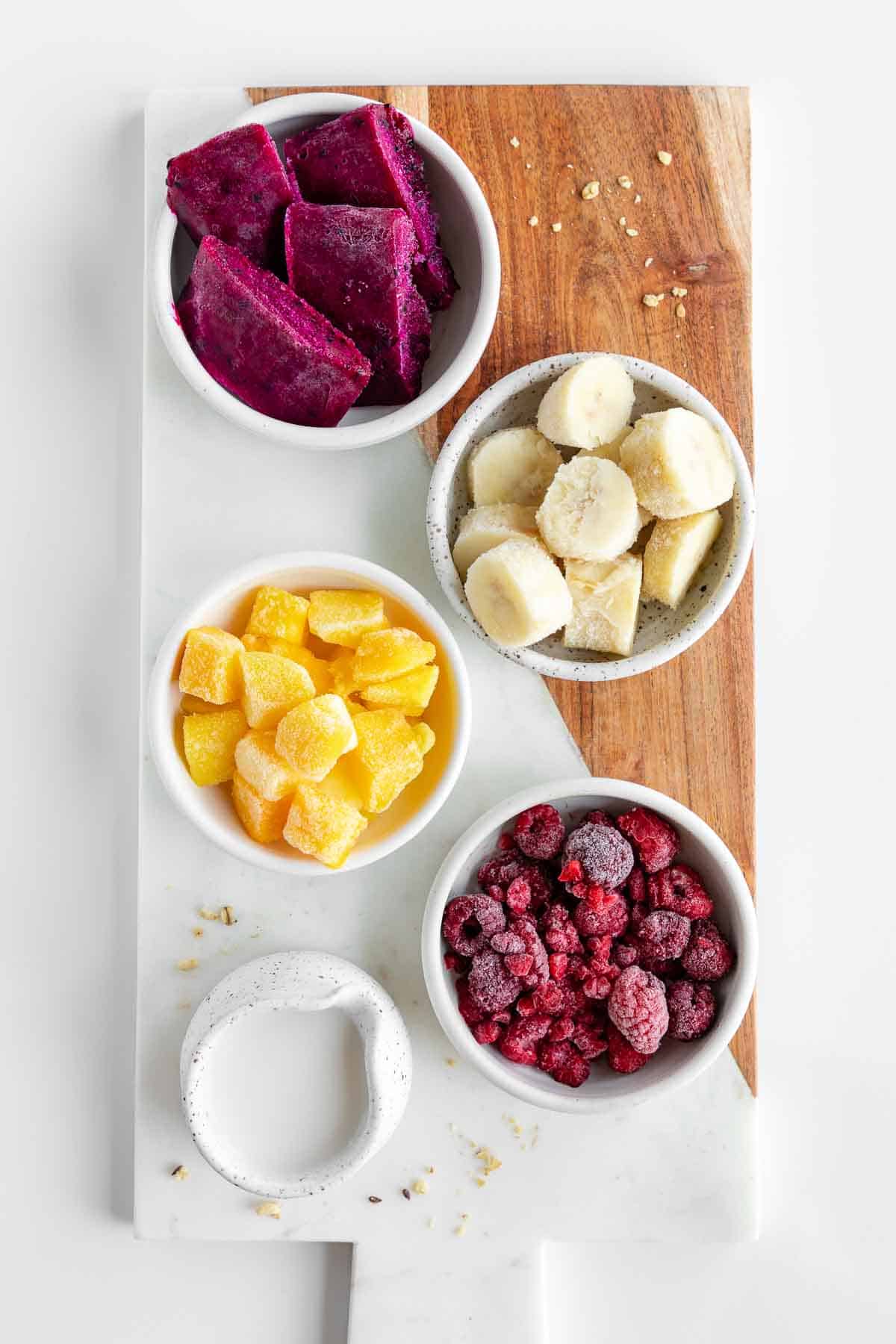 How to make a dragon fruit smoothie bowl
For the full ingredients list and step-by-step instructions, scroll down to view the recipe card below.
First, add all ingredients to a blender. This includes frozen dragon fruit, frozen banana, frozen mango chunks, frozen raspberries, and plant-based milk.
Second, blend the ingredients until smooth and creamy. This works best if you use a high-speed blender that has a tamper, like a Vitamix blender. If you have a regular blender, you may have to be patient with it. I recommend blending, stopping and pushing the ingredients toward the blades, blending again, and repeating this process until smooth.
After, transfer the smoothie to a bowl. Add your choice of toppings. Enjoy!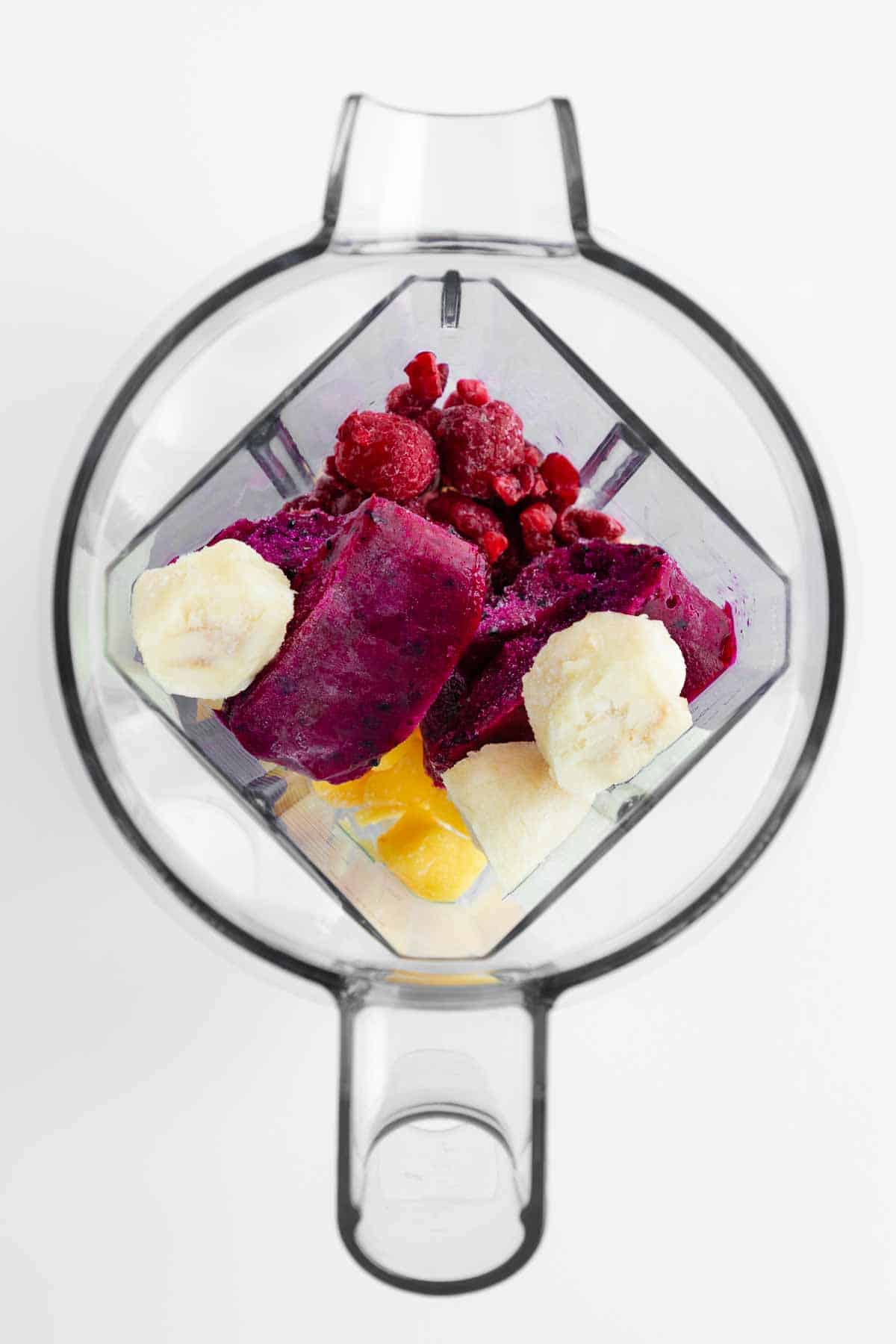 Where to buy a pitaya packet
You can find dragon fruit packets and pitaya packets in the frozen section of grocery stores. Typically, they are near the frozen fruit. I recommend the Pitaya Plus, Pitaya Foods, or Sambazon brands.
Recipe variations
There are various ways to customize this dragon fruit smoothie bowl to meet your preference. I have listed my favorite add-ins and ingredient swaps below.
Add-ins: add 1-2 of the following ingredients
Protein powder: I recommend using vanilla plant-based protein powder
Seeds: add a spoonful of chia seeds or hemp seeds for a boost of omega-3 and omega-6 fatty acids
Lime juice: squeeze the juice from half a lime for a tart, tangy flavor
Sweetener: if needed, you can sweeten the smoothie with medjool dates, maple syrup, agave nectar, honey, or coconut nectar
Ingredient swaps: the following ingredients can be replaced with the alternatives
Dragon fruit packet: if you cannot find the frozen packets at your grocery store, use 1/2 cup frozen dragon fruit cubes instead
Raspberries: the raspberries can be replaced with another berry, like blueberries or strawberries
Plant-based milk: coconut water can be used instead to further enhance the tropical flavor
Best toppings for a pitaya bowl
Want to make the best homemade pitaya bowl? One way to achieve this is by highlighting the tropical flavor with specific toppings. This includes tropical fruits, like kiwi and coconut! Choose from my list of best pitaya bowl toppings below.
Fresh fruit: use tropical fruits, including kiwi fruit, mango, papaya, pineapple, guava, dragon fruit, star fruit, or passion fruit
Coconut: sprinkle coconut flakes or shredded coconut (also known as desiccated coconut) on top
Granola: although it isn't necessarily a "tropical" ingredient, no smoothie bowl is complete without granola. It is a must-have topping because it adds a delicious crunch to every bite.
Nut butter: add healthy fats to your bowl with a drizzle of nut butter on top. Choose almond, peanut, cashew, macadamia, or another variety.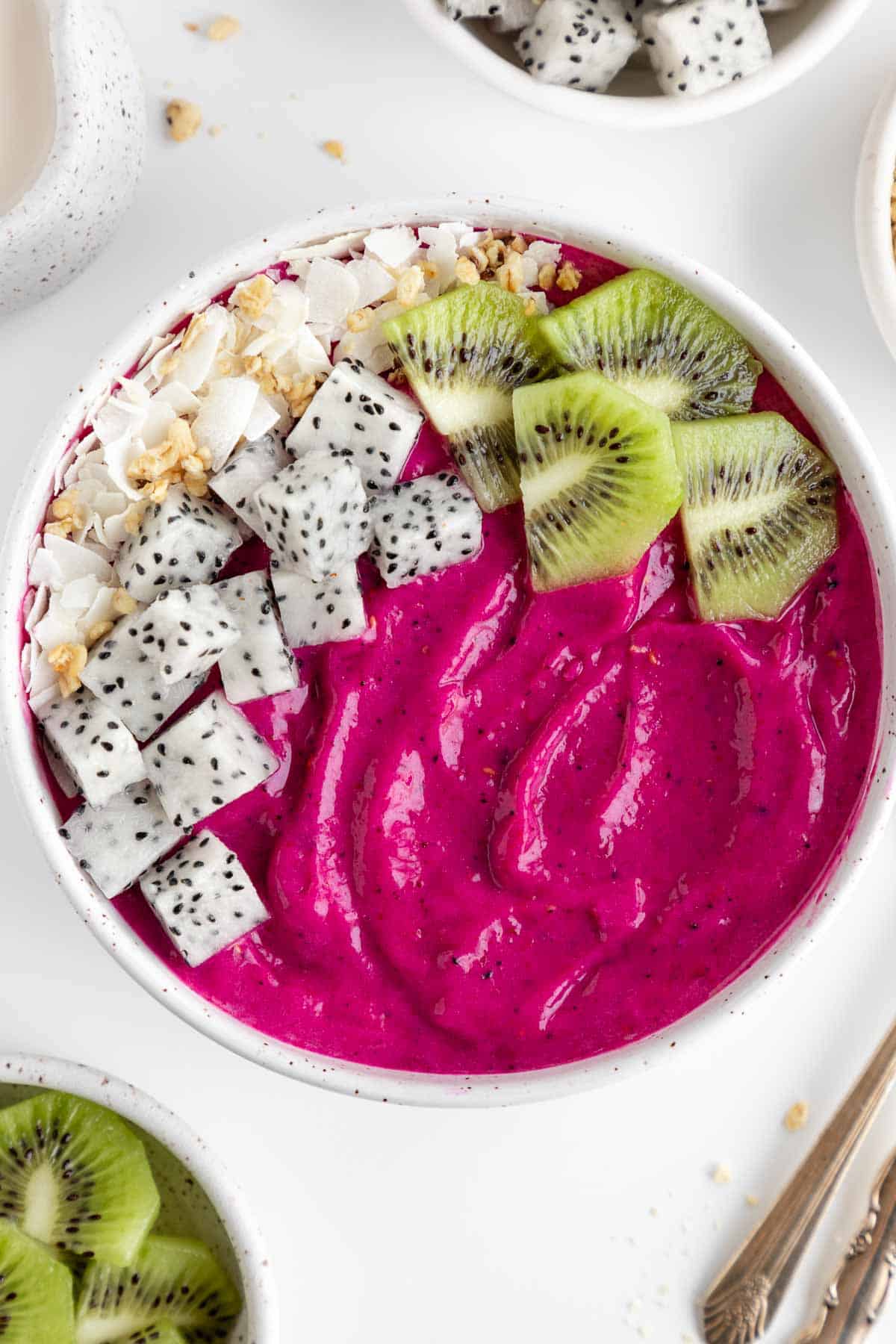 More healthy smoothie bowl recipes
If you try this Dragon Fruit Smoothie Bowl, please let me know your thoughts by leaving a rating and comment below! Ready for more? Subscribe to my newsletter or follow along on Instagram and YouTube!
Print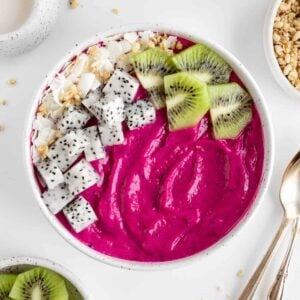 Dragon Fruit Smoothie Bowl
Author:

Kaylie Grace

Prep Time:

5 minutes

Total Time:

5 minutes

Yield:

1

serving

1

x

Category:

Breakfast

Method:

Blend

Cuisine:

American

Diet:

Vegan
---
Description
This dragon fruit smoothie bowl is easy, healthy, vegan, and dairy-free! Make this homemade pitaya bowl with just 5 ingredients, including banana, mango, raspberries, and plant-based milk. It's a tropical breakfast smoothie that's great for all ages, especially kids, due to the fun pink appearance. Add your favorite toppings and enjoy it with a spoon!
---
1

packet frozen dragon fruit (also known as pitaya)*

1

frozen banana, peeled before freezing

1/2 cup

frozen mango chunks

1/2 cup

frozen raspberries

1/2 tsp

vanilla extract (optional)

1/2 cup

plant-based milk (like almond or coconut)
---
Instructions
Add all ingredients to a blender.
Blend ingredients until smooth and creamy.
Transfer smoothie to a bowl. Add your choice of toppings. Enjoy!
---
Notes
*Dragon fruit is also known as pitaya. I recommend using a frozen dragon fruit packet or pitaya packet for this recipe. I love the Pitaya Foods, Pitaya Plus, and Sambazon brands. If you are using the fruit itself instead of a packet, use 1/2 cup or 100g.
---
Nutrition
Serving Size:

1 serving

Calories:

252

Fat:

2g

Carbohydrates:

57g

Fiber:

12g

Protein:

4g
Keywords: dragon fruit smoothie bowl, pitaya bowl recipe
This post contains affiliate links. If you make a purchase through one of these links, I earn a small commission at no additional cost to you. I only recommend products I personally use, trust, and love!