Pico De Gallo Recipe (Salsa Fresca)
This homemade pico de gallo recipe is easy, authentic, and ready in 10 minutes! Also known as salsa fresca, it's refreshing, crunchy, and brings zesty flavor to any meal. This fresh salsa is loaded with tomatoes, red onion, cilantro, lime, garlic, and jalapeño. Enjoy it as a healthy dip with corn tortilla chips or as a topping for Mexican dishes!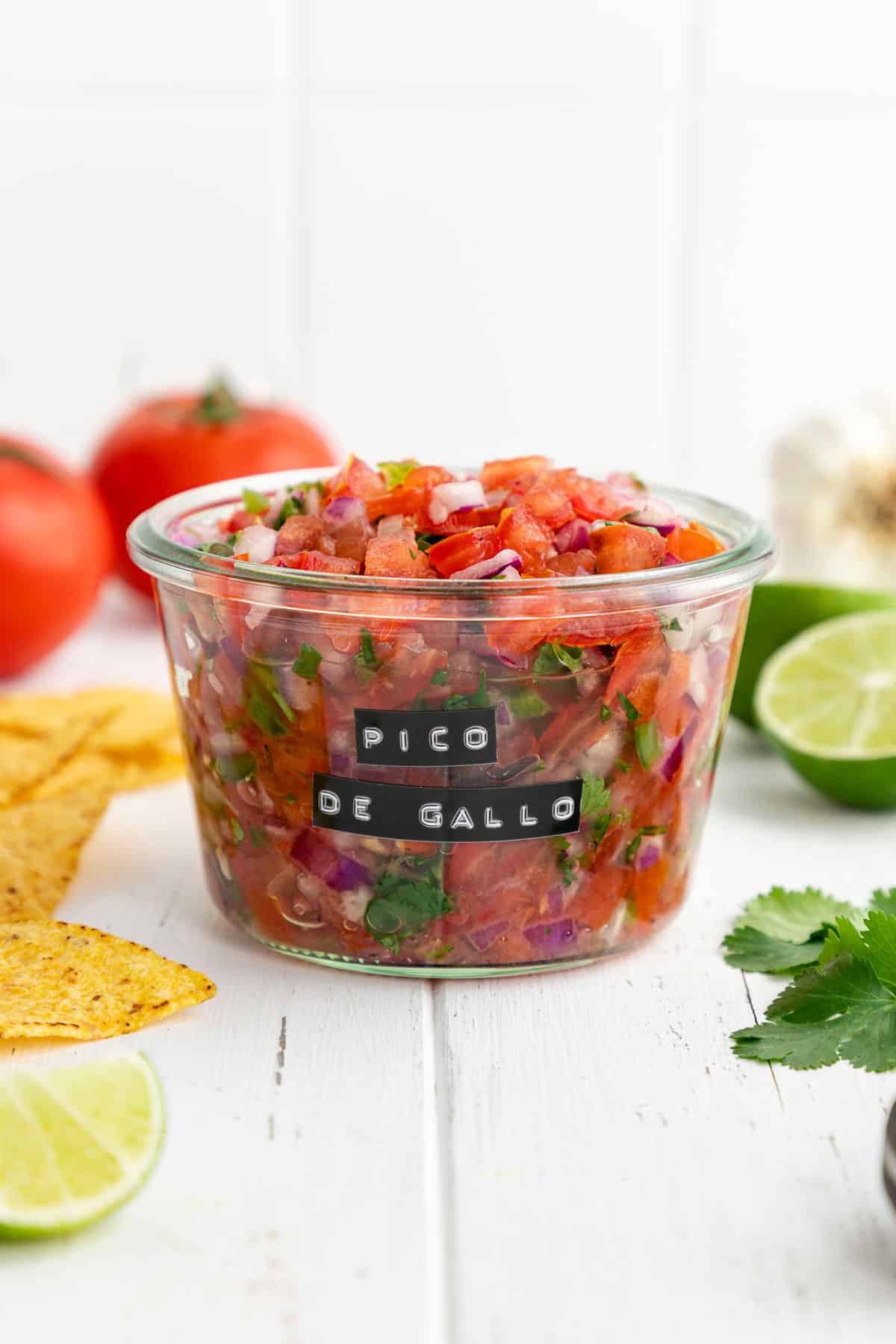 Lately, I have been finding myself topping EVERYTHING with pico de gallo. Tacos? Burritos? Chili? Curry? Salad? Quesadillas? Beans? Brownies? Yes to all of the above. Ok, except the brownies. That may be going a tad far. But you get the point. Pico de gallo is an obsession over here, and rightfully so.
This salsa fresca is fresh, light, crunchy, and juicy. It brings a crisp texture and super refreshing flavor to all dishes. What's more, it's low calorie and entirely guilt-free. When you aren't using it as a condiment, you can enjoy it as a healthy dip. Grab the tortilla chips and munch away!
This pico de gallo recipe is:
Vegan, dairy-free, oil-free, gluten-free, and soy-free
Ridiculously easy to make // ready in 10 minutes
Made with 8 ingredients
A condiment, dip, appetizer, and game day snack
Best enjoyed with Mexican meals, like tacos and burritos!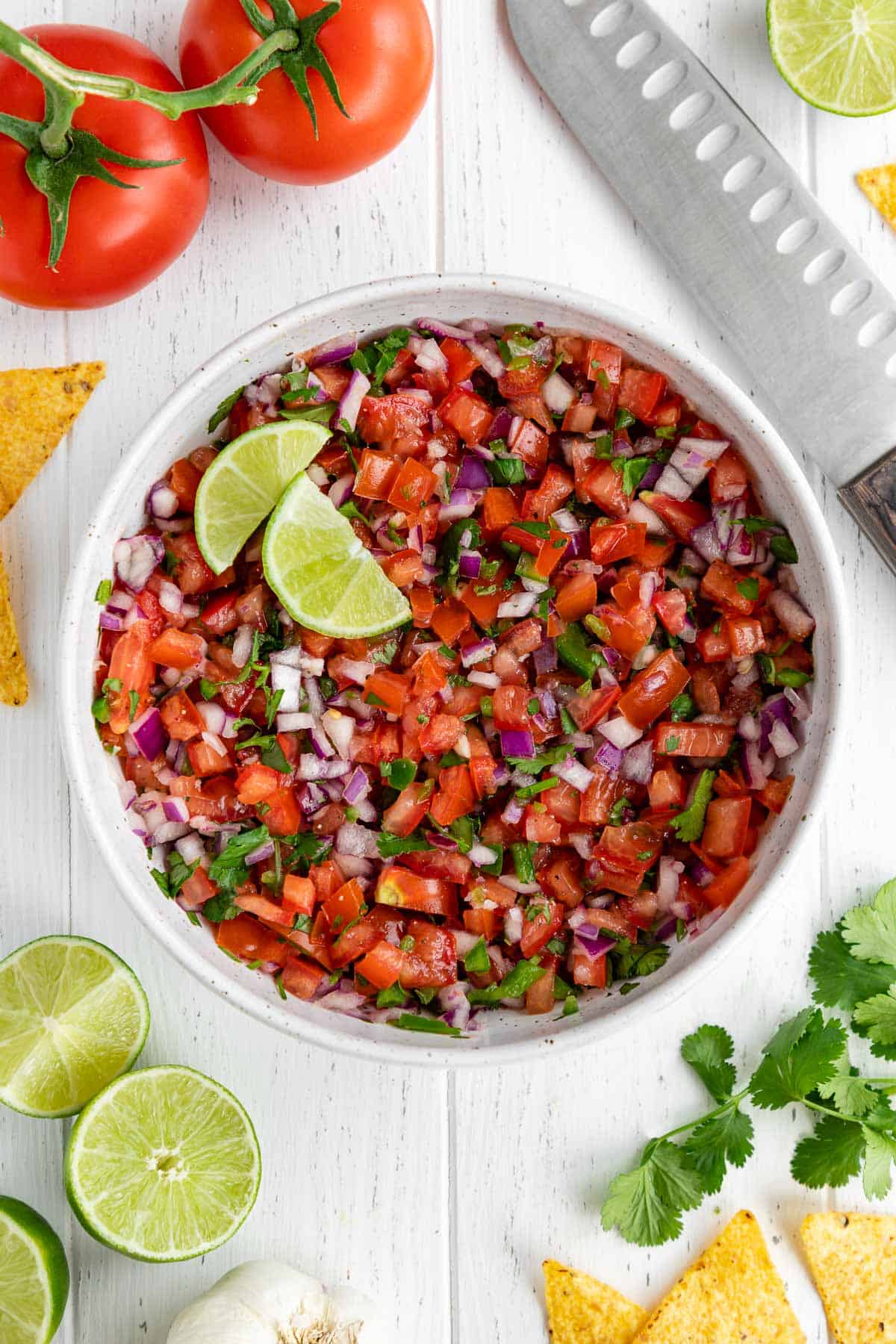 What is pico de gallo?
Pico de gallo is also called salsa fresca, salsa cruda, and salsa Mexicana. Translated to English, the name means "beak of rooster" which is a reference to the way it was originally eaten. Rumor has it, people would pinch pieces between their thumb and forefinger, creating a shape similar to a rooster's beak.
This fresh salsa is a mixture of diced tomato, onion, jalapeño or serrano pepper, cilantro, lime juice, and salt. Typically, it's enjoyed with Mexican or Mexican-American cuisine. You can it served alongside tacos, nachos, burritos, quesadillas, enchiladas, burrito bowls, and so much more.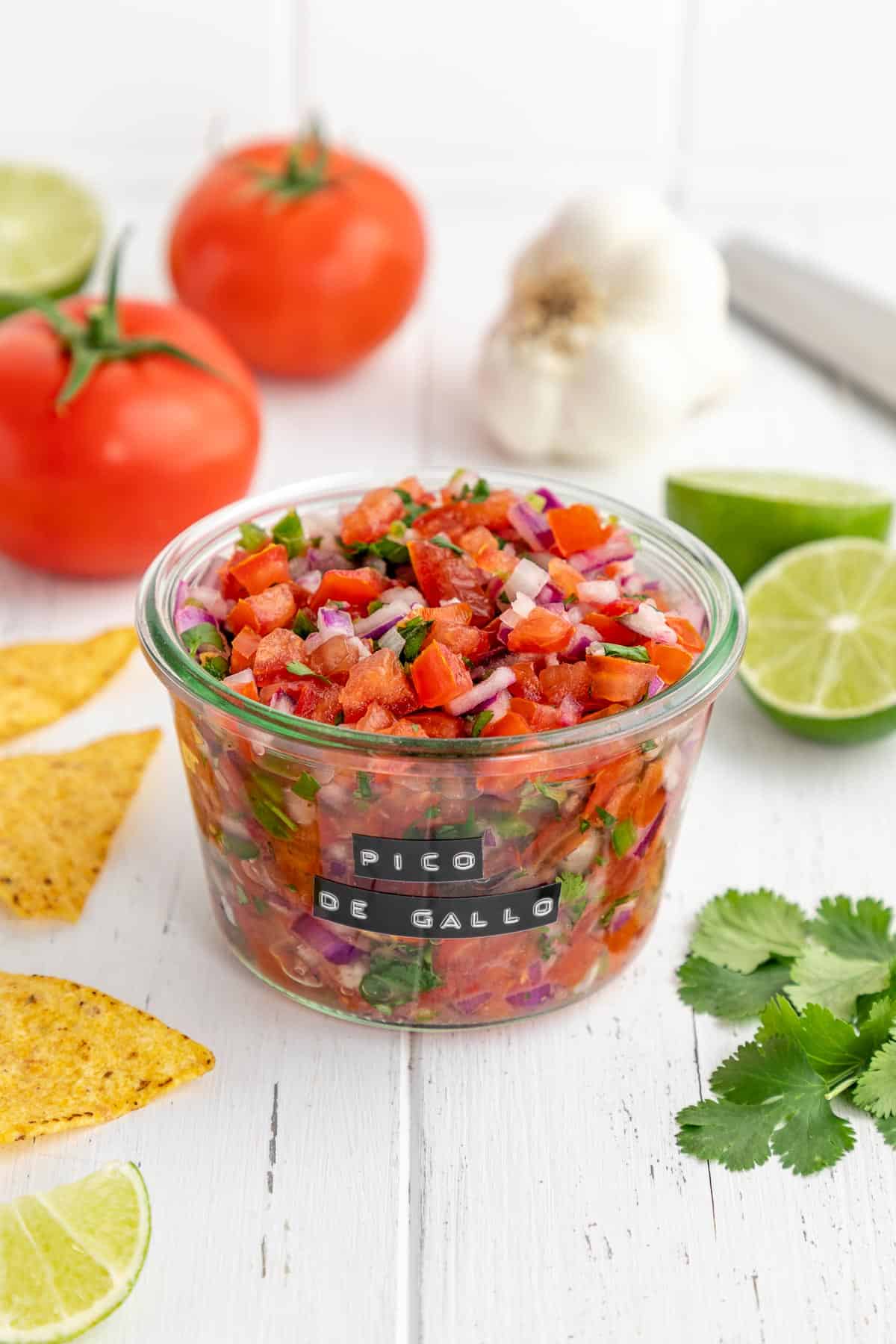 What is the difference between salsa and pico de gallo?
When people refer to salsa, they are typically discussing the liquid kind. You know, the one that is most commonly served with chips and guacamole! Pico de gallo and traditional salsa are made with the same basic ingredients, but their appearance, preparation method, flavor, and consistency are quite different.
Liquid salsa is a pureed blend of tomatoes, onions, peppers, and herbs. It usually has a red appearance, but you can make salsa verde (green salsa) with tomatillos and cilantro. Some liquid salsas use cooked ingredients while others are completely raw. The consistency is liquid-y, like a chunky stew or soup.
Pico de gallo is simply a type of salsa. As the name suggests, it's a fresh salsa containing chopped tomatoes, onions, peppers, cilantro, and lime. Pico de gallo is mild, crunchy, juicy, and contains four colors: red, white, purple, and green.
Ingredients needed
Tomato: bright red, ripe tomatoes are a must for the best results
Red onion: red onion is preferred, but white onion will work too
Jalapeño: be sure to remove the rib and seeds for a milder flavor
Garlic: add raw garlic for a powerful, pungent flavor
Lime juice: lime juice brightens and freshens the salsa
Cilantro: use plenty of fresh cilantro for a citrusy kick
Salt and pepper: add each according to your taste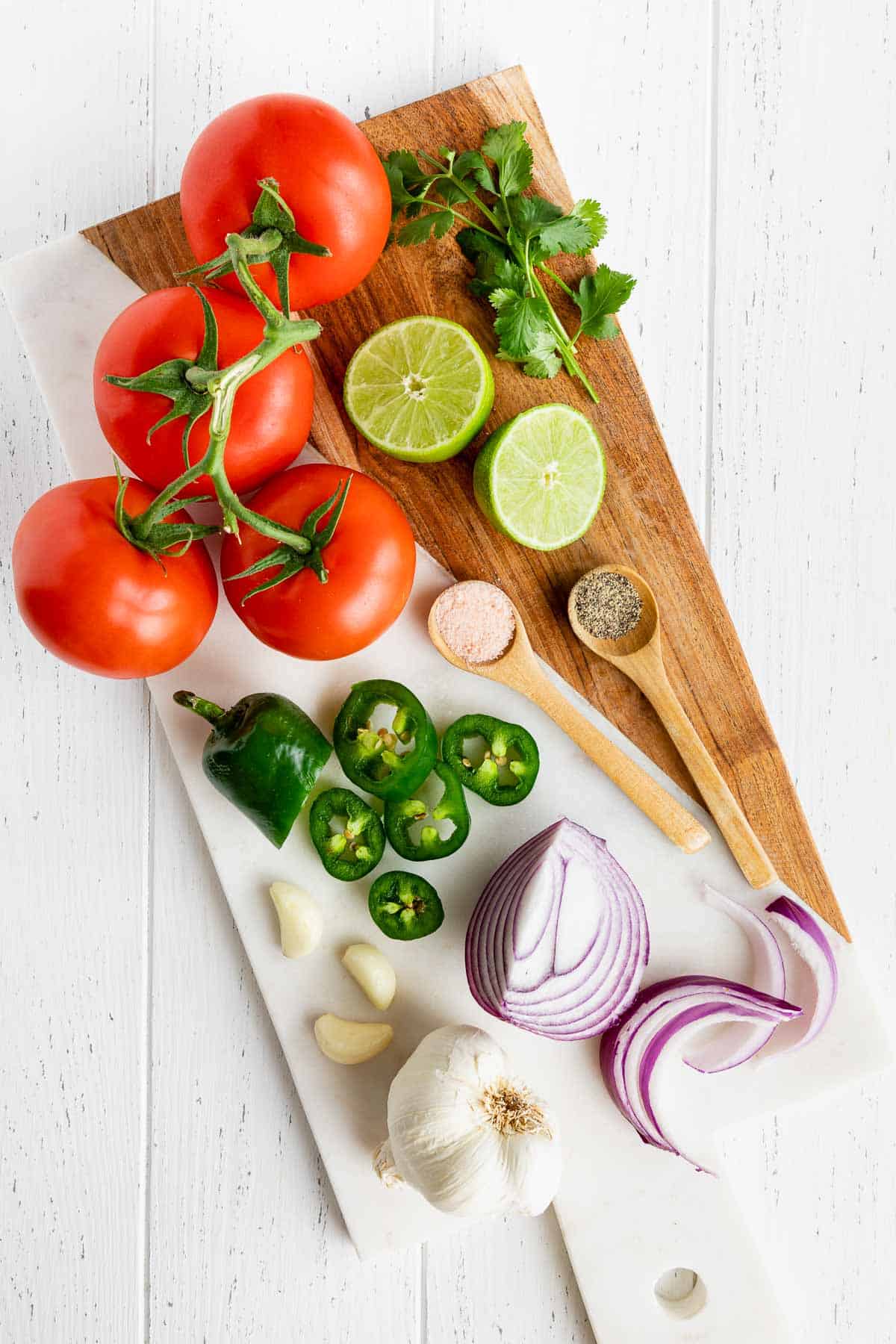 How do you make pico de gallo from scratch?
For the full ingredients list and step-by-step instructions, scroll down to view the recipe card below.
In a large bowl, add all ingredients. This includes diced tomato, diced red onion, minced jalapeño, cilantro, minced garlic, lime juice, salt, and pepper.
Mix the ingredients together until evenly combined. Boom. That's it. Done!
How to use pico de gallo
There are several ways to enjoy salsa fresca:
Tortilla chips: a tasty pairing for classic chips and dip
Tacos: whether soft or hardshell, it's a delicious condiment for tacos
Quesadillas: enjoy on top or inside Sweet Potato Black Bean Quesadillas
Burritos and burrito bowls: try it with my favorite Vegan Burrito Bowl
Nachos: garnish homemade nachos with pico de gallo instead of liquid salsa
Enchiladas and taquitos: sprinkle on top of Sweet Potato Black Bean Taquitos
Stuffed potatoes: top your Mexican Stuffed Sweet Potatoes with a spoonful
Scrambled eggs or tofu scramble: mix a quarter cup into your breakfast scramble
Guacamole and hummus: add a zesty crunch to your homemade or store bought dips
Tips for homemade pico de gallo
Learn how to make the best salsa fresca with these frequently asked questions.
What kind of tomatoes for pico de gallo?
The best results are achieved with bright red, perfectly ripe tomatoes. You can use any variety, so choose the highest quality you can find at the store. You may use roma (plum), vine ripened, cherry, or heirloom tomatoes.
Should I remove seeds from jalapeño?
When it comes to pico, the answer is yes! I highly recommend removing the jalapeño rib and seeds.
We all know jalapeños are quite spicy. But did you know the heat primarily comes from the rib and seeds? Capsaicin, the chemical compound that gives jalapeño its fiery flavor, is most concentrated within the rib and seeds. When you remove this portion of the pepper, it will have a milder flavor.
How long does it last in the refrigerator?
Store this pico de gallo inside a sealed jar or container. Place it inside the refrigerator where it will last for 3-4 days.
Can you freeze it?
No, I do not recommend freezing it. Simply put, fresh pico de gallo is the best pico de gallo. If you freeze it, the texture will become mushy instead of crispy and crunchy. So, put this salsa fresca to good use soon after creating it!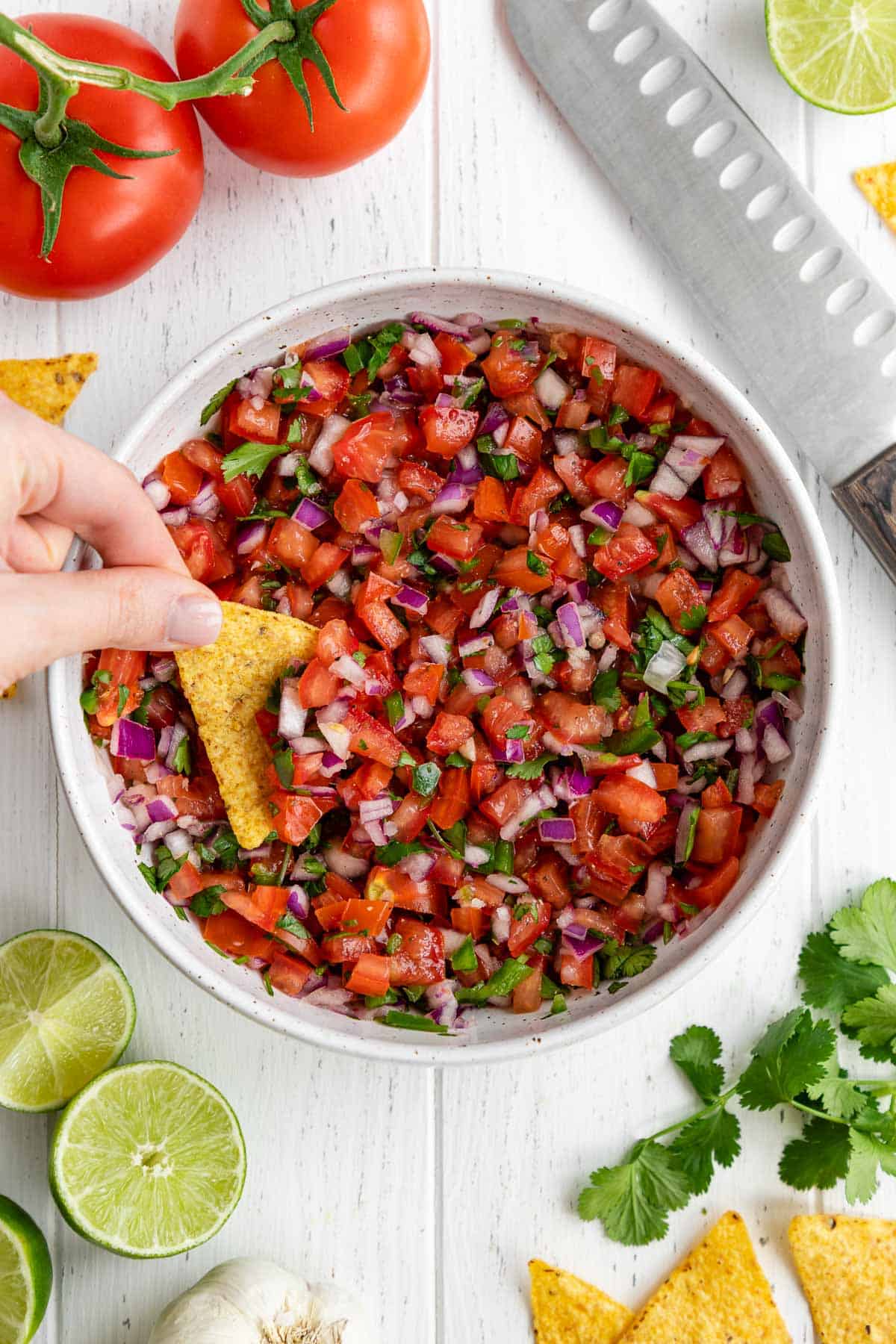 More healthy homemade condiments
If you try this Pico de Gallo, please let me know your thoughts by leaving a rating and comment below! Ready for more? Subscribe to my newsletter or follow along on Instagram and YouTube!
Print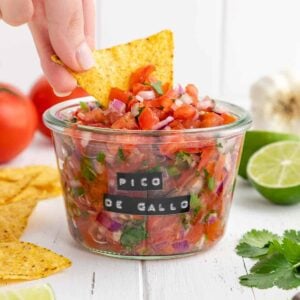 Pico de Gallo
Author:

Kaylie Grace

Prep Time:

10 minutes

Total Time:

10 minutes

Yield:

2 cups

1

x

Category:

Dip, Dressing, and Spreads

Method:

Mix

Cuisine:

Mexican

Diet:

Vegan
---
Description
The best homemade pico de gallo recipe! It's easy, quick, authentic, and ready in 10 minutes. Also known as salsa fresca, this refreshing salsa can be used as a healthy dip or a condiment for Mexican dishes. Sprinkle it on tacos, burritos, quesadillas, nachos, and so much more.
---
4

tomatoes, diced

1/2

red onion, diced

1

small jalapeño, finely diced with the rib and seeds removed

1/2 cup

fresh cilantro, chopped

2

cloves garlic, minced

2 tbsp

lime juice

1 tsp

salt

1/8 tsp

black pepper
---
Instructions
In a large bowl, add diced tomatoes, red onion, jalapeño, cilantro, garlic, lime juice, salt, and pepper.
Mix ingredients together until evenly combined. Let it sit for 10 minutes to marinate for the best flavor.
Enjoy pico de gallo immediately, or transfer to a sealed jar/container. Store in the refrigerator where it will keep for 3-4 days.
---
Notes
Jalapeño pepper can be replaced with serrano pepper.
---
Nutrition
Serving Size:

2 tbsp

Calories:

10

Sugar:

0.5g

Fat:

0g

Saturated Fat:

0g

Carbohydrates:

2g

Fiber:

0.5g

Protein:

0.5g
Keywords: pico de gallo recipe, salsa fresca
This post contains affiliate links. If you make a purchase through one of these links, I earn a small commission at no additional cost to you. I only recommend products I personally use, trust, and love!