This post may contain affiliate links. Read the affiliate disclosure here.
This peanut butter oatmeal smoothie is a healthy, quick, and easy vegan breakfast! It's super creamy, packed with fiber, and ready in just 5 minutes. Combine a handful of pantry staples, including oats, peanut butter, and banana, to create this nourishing breakfast smoothie. It's great for weight loss, busy mornings, and a guilt-free way to satisfy your sweet tooth!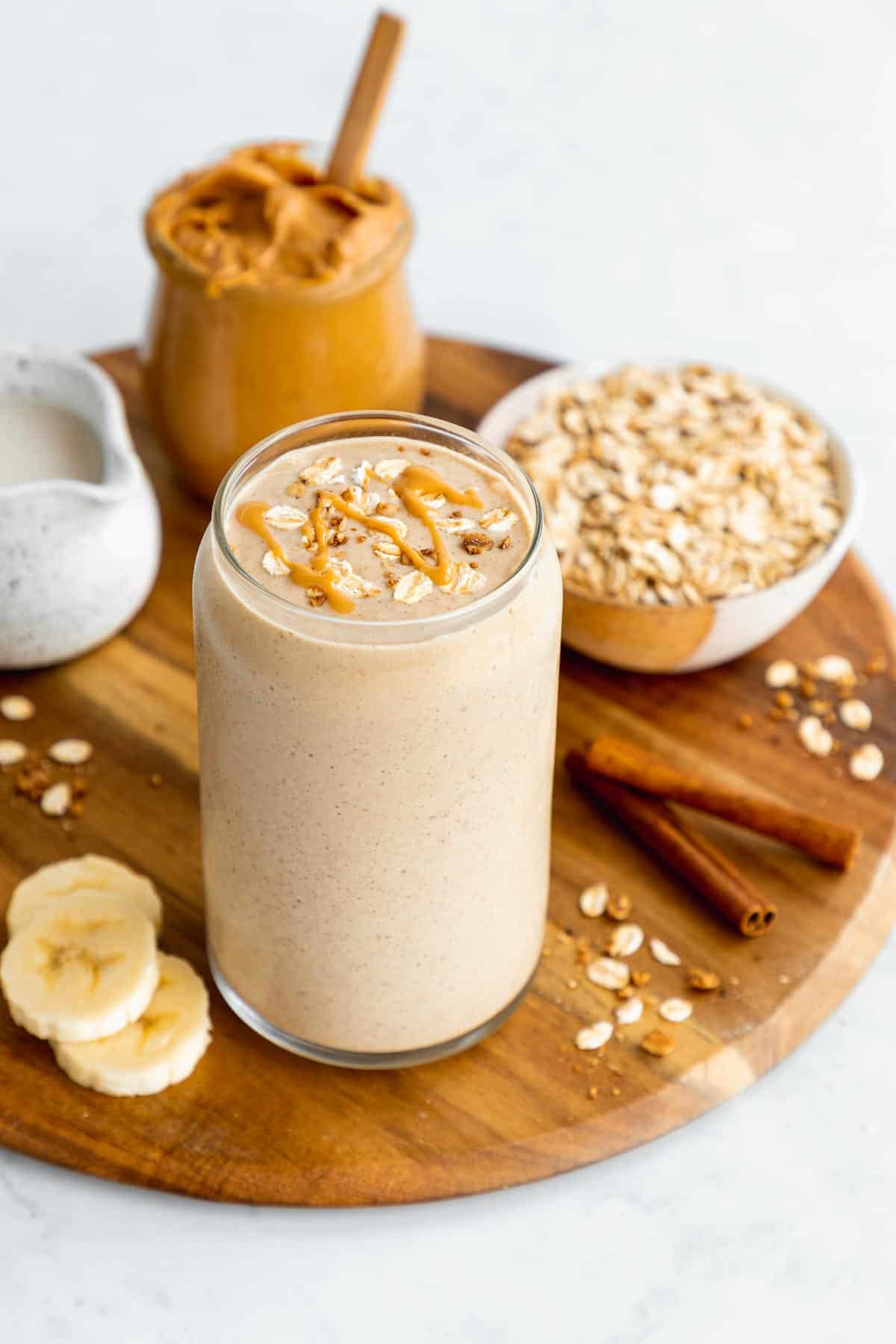 In case you haven't noticed already, let me point out the obvious: I absolutely ADORE oatmeal. From basic Peanut Butter Oatmeal to the fun Chunky Monkey Baked Oatmeal, healthy Oatmeal Cookie Dough Balls, and the more indulgent Vegan Oatmeal Cream Pies, there are endless options to choose from on this blog!
There's a good reason I have shared so many recipes made with oats. This ingredient is nutritious, affordable, easily accessible, and ridiculously versatile. You can cook it down to a creamy porridge, grind it into a flour, soak it overnight, and blend it into smoothies - like this banana peanut butter oatmeal smoothie.
This simple smoothie recipe is fiber-packed, loaded with minerals, and contains healthy fats. It's also naturally high in plant-based protein with 11 grams per serving. The best part, though? It's so thick and creamy, it tastes like a healthier version of a milkshake or a dessert smoothie. (Just be sure to add the maple syrup if you have a sweet tooth.)
Since oats are a whole grain and a great source of fiber, this smoothie provides long lasting energy to fuel the day ahead. Unlike smoothies that are made with just fruit, the oats should help you avoid a blood sugar crash later on. You may find yourself enjoying this recipe so much that you begin adding oats to all of your smoothies from here on out!
This peanut butter oatmeal smoothie is:
Vegan, dairy-free, gluten-free, and soy-free
Hearty, filling, satisfying, and creamy
Super quick & ready in just 5 minutes
Made with pantry staples & simple ingredients
Kid-approved // great for toddlers and kids
An easy breakfast for busy mornings!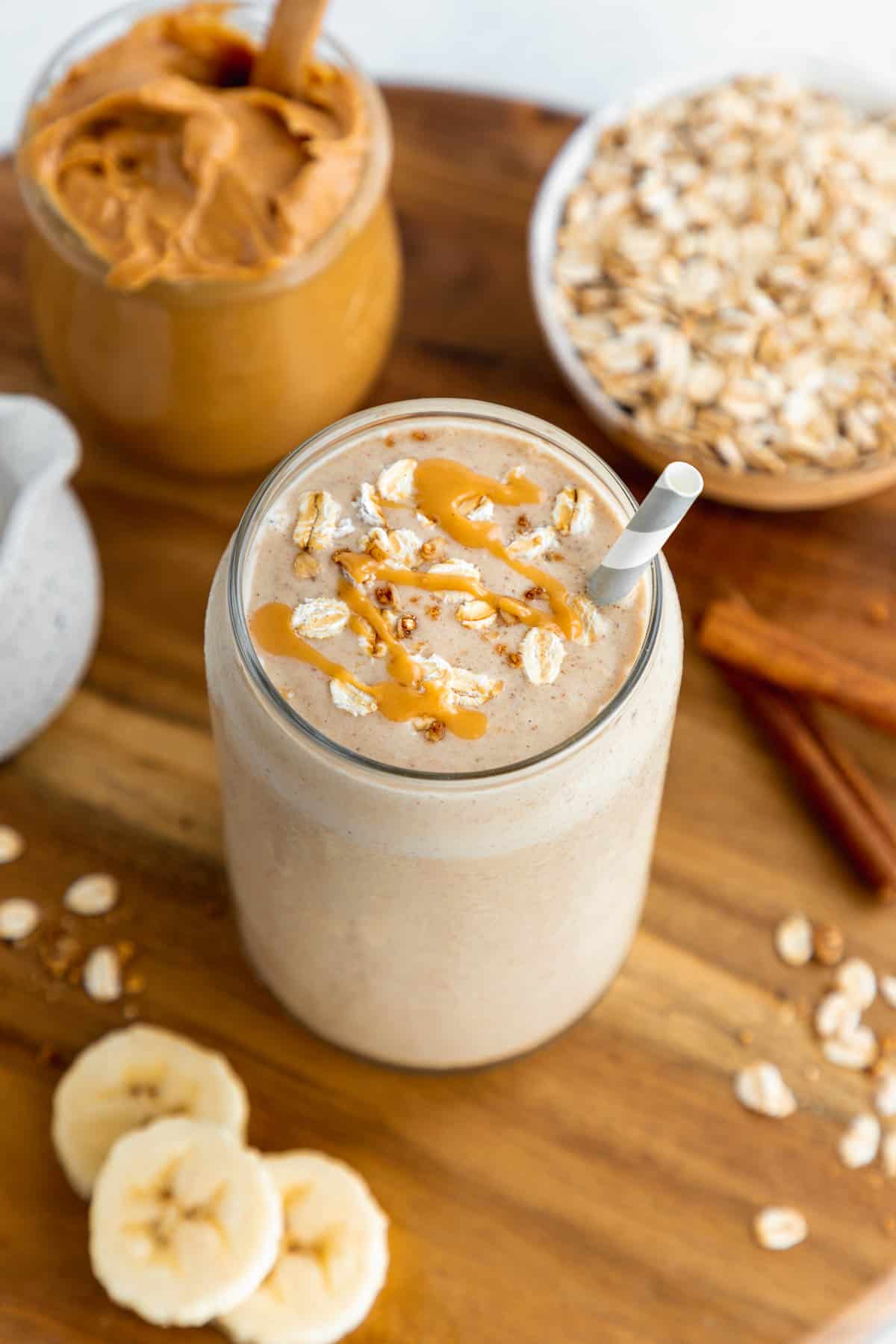 Banana oatmeal smoothie ingredients
Oats: Oatmeal offers various health benefits, including the fact that it is hearty healthy, rich in minerals, and aids digestion.
Peanut butter: Creamy peanut butter adds a delicious nutty flavor, creamy consistency, and healthy source of fats. As always, I recommend using a natural variety that only lists peanuts in the ingredients.
Banana: Be sure to use ripe bananas that have a yellow peel with brown spots. Peel the bananas, then store them inside a sealed bag in the freezer. Bananas can be kept in the freezer for up to 2 months. If you enjoy smoothies often, I suggest keeping a bag of them in the freezer at all times.
Oat milk: I love sticking with the oatmeal theme by using oat milk in this smoothie. You can use any type of milk, like almond, coconut, or cashew.
Maple syrup: Naturally sweeten this breakfast smoothie with real maple syrup. If desired, you can add sweetness by using medjool dates, honey, or agave nectar instead.
Flaxseed: Ground flaxseed is high in omega-3 fatty acids and lignans. This ingredient is optional, but it has a mild flavor and a jam-packed nutrient profile. So, why not?
Vanilla: Vanilla extract adds a warm, sweet flavor and gives it a dessert-like flavor.
Cinnamon: Cinnamon is an anti-inflammatory spice and pairs well with the oats.
Salt: Salt in a smoothie? It seems counterintuitive, but a pinch of salt brings out all of the other flavors. It makes a difference, so don't skip it unless you need to.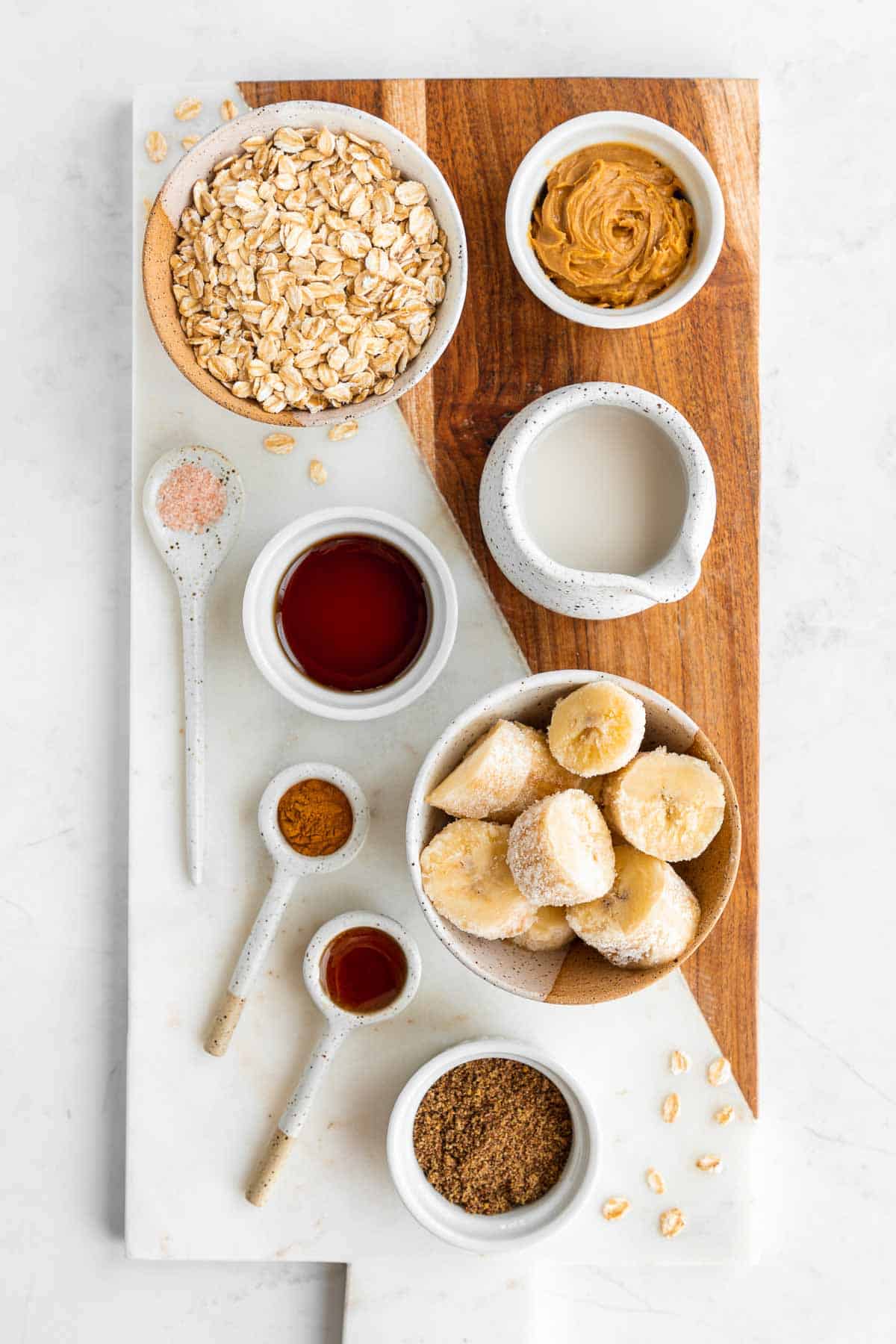 How to make a peanut butter oatmeal smoothie
For the full ingredient measurements and step-by-step instructions, scroll down to view the recipe card at the bottom of the page.
First, add all ingredients to a blender. This includes oats, banana, peanut butter, maple syrup, ground flaxseed, vanilla, cinnamon, salt, and oat milk. Next, turn on the blender and blend until it's smooth and creamy.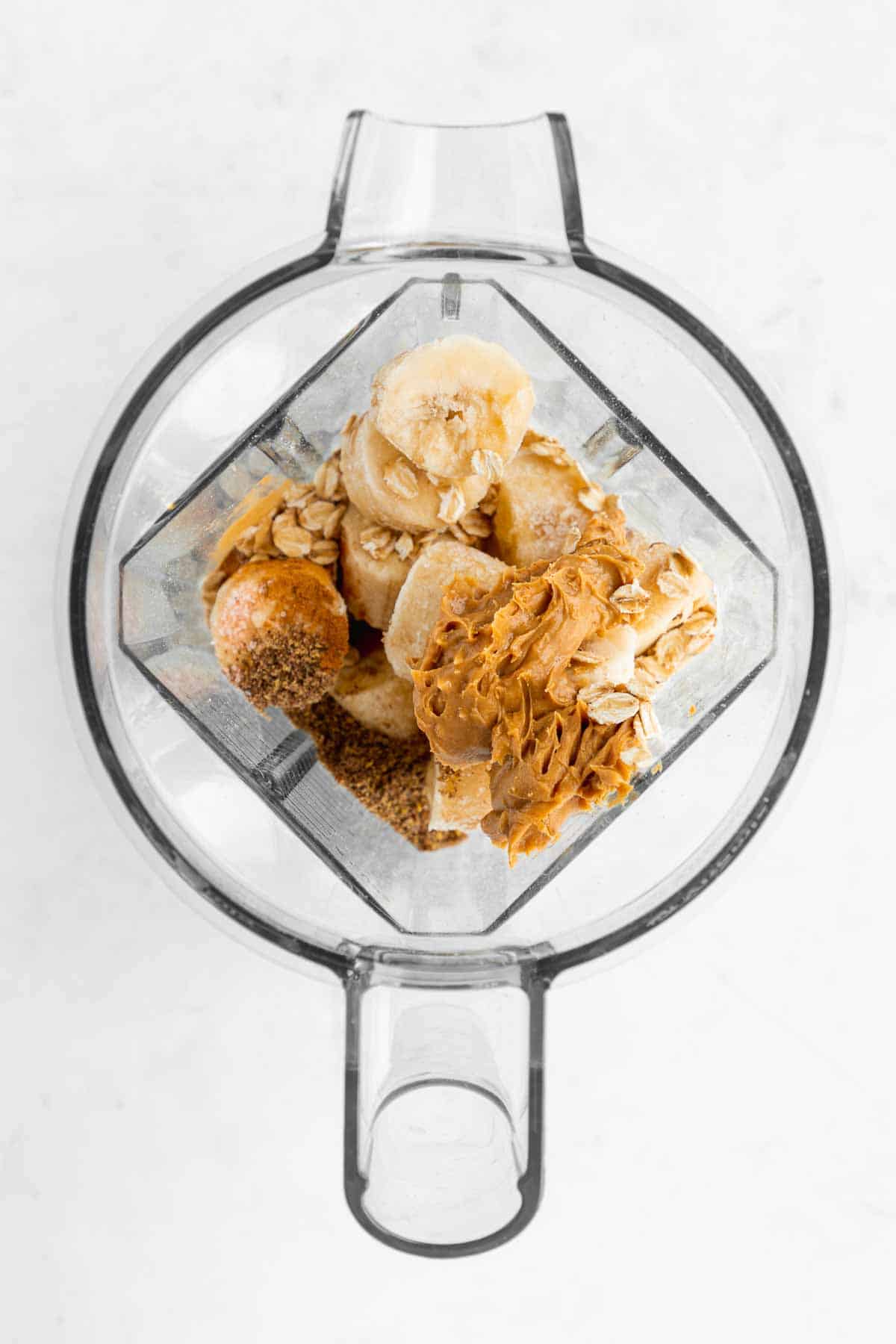 After, pour the smoothie into glasses. If desired, add an extra drizzle of peanut butter on top. Cheers!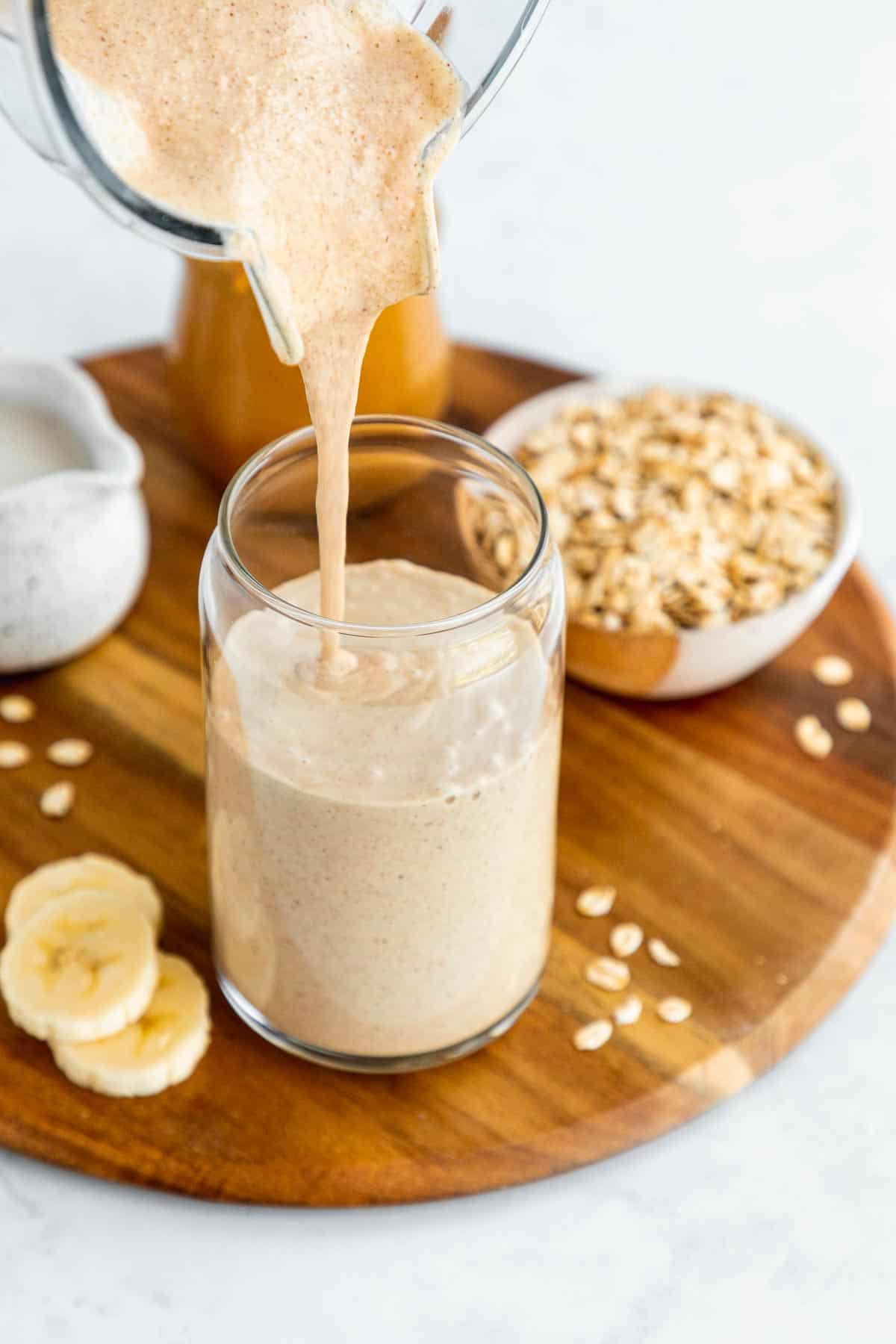 Is it OK to put raw oats in a smoothie?
Yes, go for it! If you have never tried it before, you may be wondering whether or not you need to cook oats before putting them in a smoothie. Fortunately, raw oats are safe to eat. You do not need to cook oatmeal before blending the smoothie.
What kind of oats are best for smoothies?
I recommend using rolled oats or quick oats. They are both soft, chewy, and easy to blend along with other ingredients. I do not recommend using steel cut oats.
What does adding oats to a smoothie do?
Have you ever wondered how to make a smoothie more filling? Adding oatmeal to your smoothie is a great way to make it more creamy, filling, and hearty.
Since oats are a whole grain, they are a great source of fiber and complex carbohydrates. This is a beneficial ingredient because it provides long lasting energy, vitamins, and minerals, but it's also low in calories.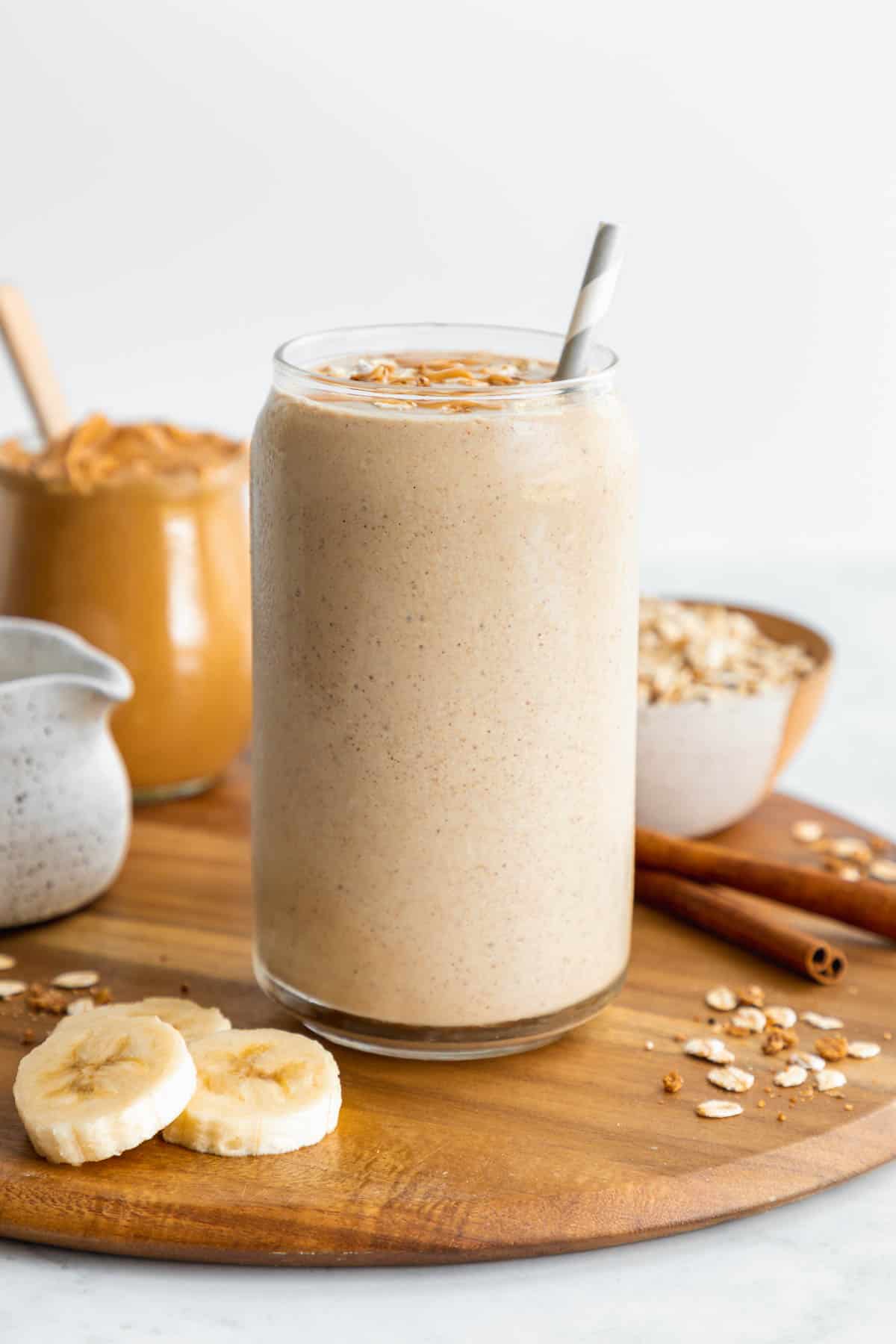 What to put in smoothies for weight loss
Oatmeal smoothies are often enjoyed by those who want to lose weight without giving up their favorite beverage. How come? When a smoothie is made with oats instead of just fruit, it's much more satisfying! Therefore, you'll be less tempted to grab snacks (or even another meal) soon after drinking it.
Other ingredients for weight loss smoothies:
Protein powder: Protein is an important macronutrient when it comes to building muscle and reducing fat. To increase the protein content of this smoothie, add a scoop of your favorite plant-based protein powder. I recommend using a vanilla, chocolate, or peanut butter flavored powder.
Greens: Greens are not only nutritious, but they're also a great way to bulk up a smoothie without adding excess calories. Additionally, they add volume and improve digestion. I suggest adding spinach for a flavorless option. You can also try including a handful of kale, arugula, or even peeled zucchini. (I know, the zucchini sounds odd but it works!)
Cacao or cocoa: A spoonful of cacao/cocoa creates a rich, chocolatey flavor without excess calories. This is a great way to satisfy chocolate cravings while sticking to your diet plan.
Coffee: It's well known that coffee helps naturally reduce one's appetite. If you already enjoy the classic cup of Joe, try using it as the liquid inside this smoothie instead. Of course, coffee should only ever be used in a healthy manner and in moderation. It should never be abused as a way to lose weight (because that is certainly not healthy).
Spices: Spices make it possible to enhance the flavor without adding any calories. This is a clever way to aim for a specific flavor, like cinnamon, chai spice, or pumpkin spice.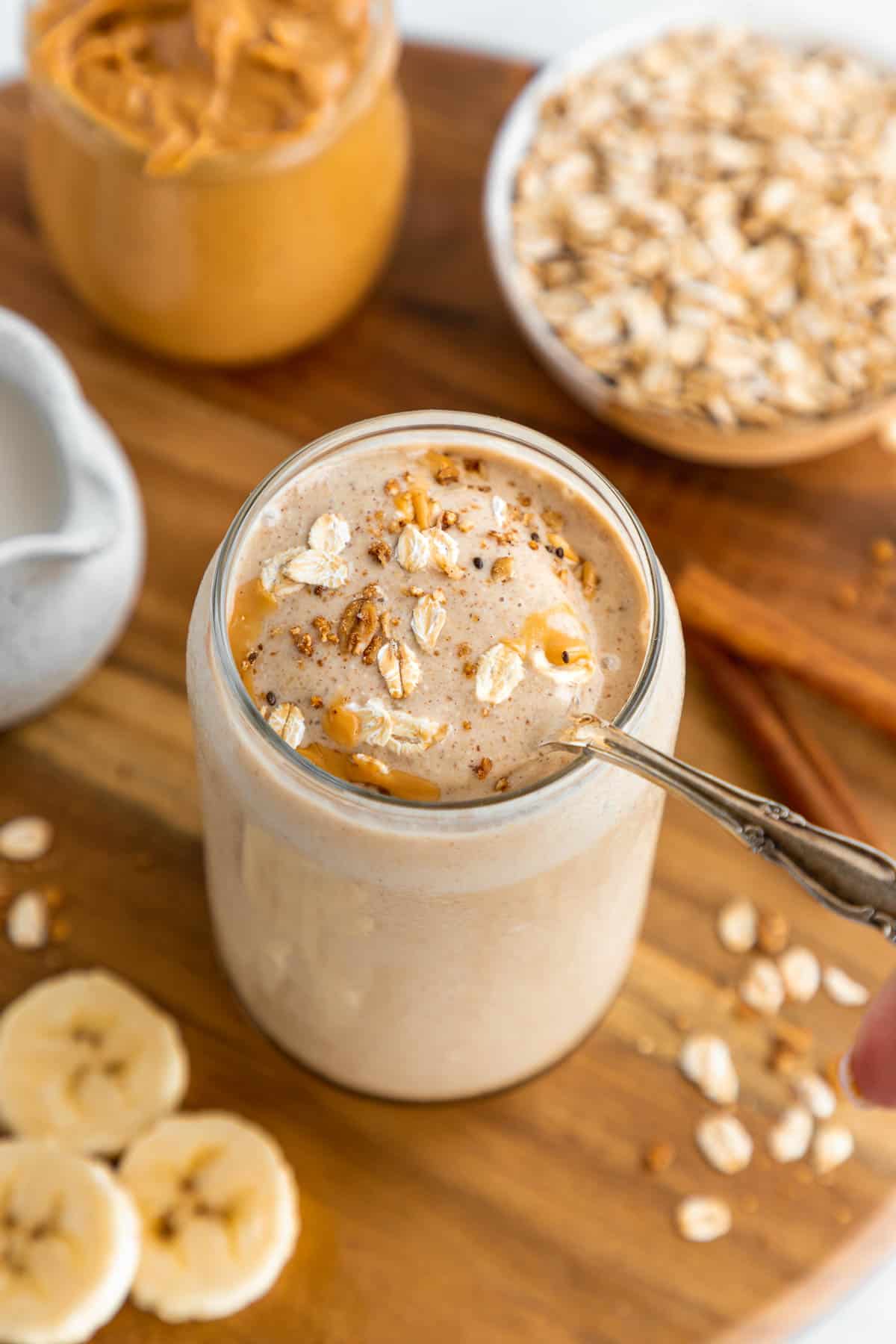 Smoothie recipes with peanut butter
More vegan smoothie recipes
If you try this Peanut Butter Oatmeal Smoothie, please let me know your thoughts by leaving a rating and comment below! Ready for more? Subscribe to my newsletter or follow along on Instagram and YouTube!
Print
Peanut Butter Oatmeal Smoothie
Author:

Kaylie Grace

Prep Time:

5 minutes

Total Time:

5 minutes

Yield:

2

servings

1

x

Category:

Breakfast

Method:

Blend

Cuisine:

American

Diet:

Vegan
---
Description
This peanut butter oatmeal smoothie recipe is a healthy breakfast for weight loss and busy mornings! It's creamy, easy to make, packed with fiber, and ready in 5 minutes. Combine a handful of pantry staples, like oats and banana, to create this nourishing breakfast smoothie. It's vegan, gluten-free, dairy-free, and great for kids!
---
½ cup

rolled oats or quick oats

2

frozen ripe bananas, peeled before freezing

2 tbsp

peanut butter

1

-

2

tablespoon maple syrup (optional but recommended)

1 tbsp

ground flaxseed (optional)

1 tsp

vanilla extract

1 tsp

ground cinnamon

⅛ tsp

salt

1 cup

oat milk (or any milk)
---
Instructions
Add all ingredients to a blender.
Blend ingredients until smooth and creamy.
Pour smoothie into glasses. Add an extra drizzle of peanut butter on top. Enjoy!
---
Notes
I recommend sweetening the smoothie with maple syrup, but you can also add medjool dates, honey, agave nectar, etc.
If you are gluten-free, double check the label on your oats to make sure they are certified gluten-free. Only use rolled oats or quick oats for this recipe. Do not use steel cut oats.
Since they are optional, the nutrition information does not include maple syrup and ground flaxseed.
---
Nutrition
Serving Size:

1 serving

Calories:

365

Sugar:

16g

Fat:

10g

Carbohydrates:

60g

Fiber:

9g

Protein:

11g
Keywords: peanut butter oatmeal smoothie, oatmeal smoothie, smoothie recipes with peanut butter
This post contains affiliate links. If you make a purchase through one of these links, I earn a small commission at no additional cost to you. I only recommend products I personally use, trust, and love!