Peanut Butter Oatmeal
This post may contain affiliate links. Read the affiliate disclosure here. 
Peanut butter oatmeal is a quick, easy, and healthy vegan breakfast! This thick and creamy oatmeal recipe is made with simple ingredients, including rolled oats, peanut butter, maple syrup, cinnamon, and plant-based milk. It's hearty, comforting, packed with fiber, and provides long-lasting energy to fuel your day. Vegan, dairy-free, gluten-free, and ready in 10 minutes!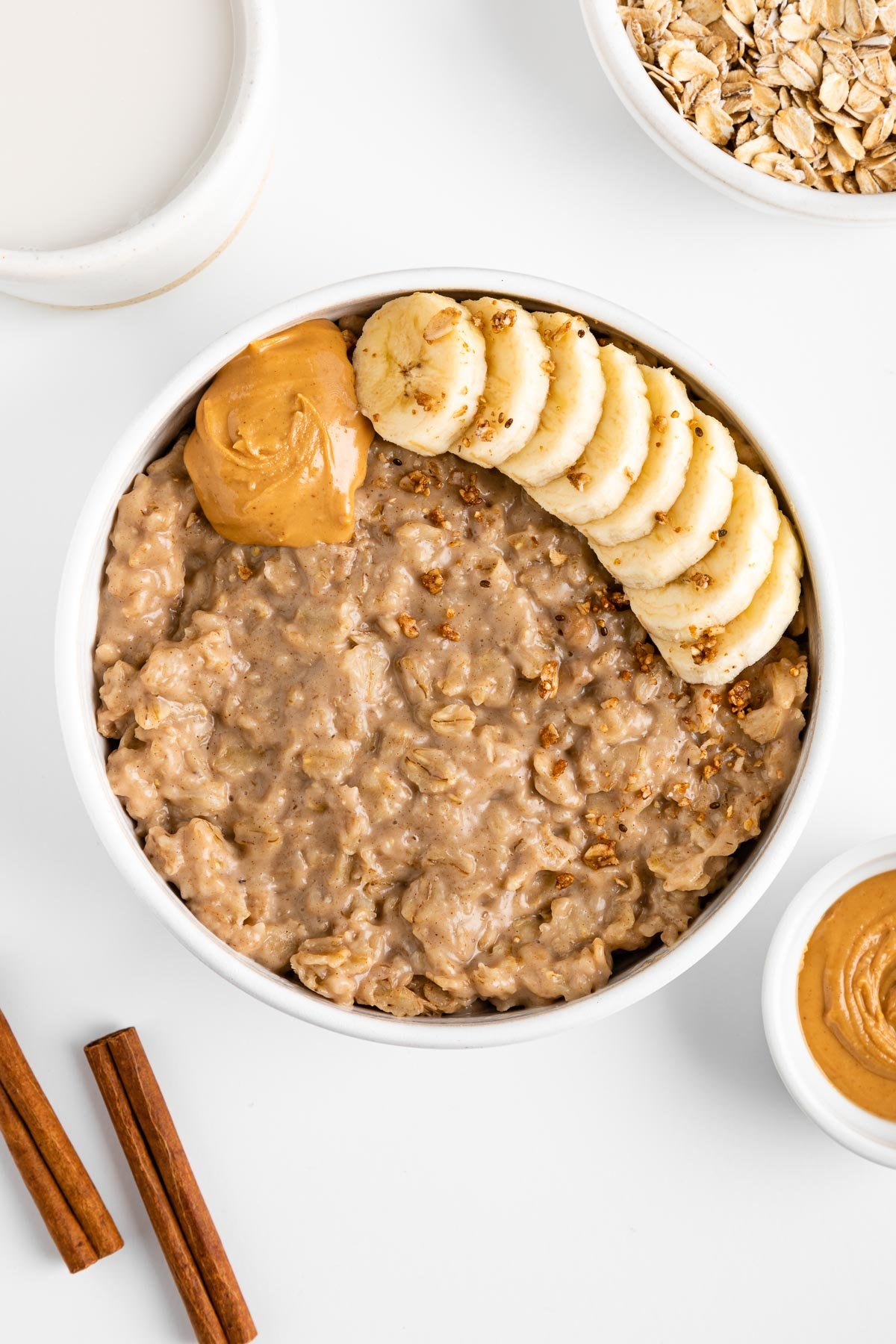 If oatmeal isn't your thing, I'm willing to bet you just haven't made it quite right yet! And that's okay. Today, we can easily change that. Homemade stovetop oatmeal is quite different than the pre-portioned instant oatmeal packets you'll find at a grocery store. The real deal is creamier, thicker, much more satisfying, and can be customized to your own personal preferences. You can mix in anything and everything, from peanut butter to fresh fruit to brown sugar and dark chocolate. The options are endless! Oh, and don't forget the toppings. Toppings are always the best part.
When it's too cold outside for a smoothie, you can find me beginning my day with a warm and cozy bowl of oatmeal. It's hearty, fiber-filled, nourishing, comforting, and provides me with plenty of fuel to power through the whole morning. Sometimes, I'll stir in a spoonful of cocoa powder and enjoy it as a healthier dessert. If you couldn't tell already, I'm really passionate about oatmeal. I just love it and I think you will, too!
This peanut butter oatmeal is:
Vegan, dairy-free, gluten-free, oil-free, and soy-free
Made with basic ingredients and pantry staples
Naturally sweetened with real maple syrup
A quick and easy, one-pot recipe
Ready in under 10 minutes
Easily customizable with various options for mix-ins and toppings
What ingredients are in peanut butter oatmeal?
Oats: The key ingredient to oatmeal is, you guessed it, oats! For this recipe, we'll use rolled oats or old-fashioned oats.
Plant-based milk: Use your favorite plant-based milk, such as almond milk or oat milk.
Water: I prefer to use a combination of water and plant-based milk, so the liquid portion of this recipe includes half of each.
Peanut butter: Creamy peanut butter adds a subtle nutty, peanut buttery flavor. If you prefer crunchy, that's great too! Do your thing.
Maple syrup: Sweetening the oatmeal is entirely optional. If you have a sweet tooth, I recommend adding it. A spoonful of real maple syrup is a delicious (and healthier) choice than refined sugar. Alternatively, you can sweeten it with mashed banana, applesauce, chopped dates, coconut nectar, date syrup, or coconut sugar.
Vanilla: A dash of vanilla extract adds a nice flavor and aroma. Vanilla is commonly used in baked goods and desserts. Well, in my opinion, oatmeal should be no different!
Cinnamon: Ground cinnamon adds a warm flavor and is a healthy spice to include.
Salt: Just a pinch is needed. Trust me on this one – it makes all the difference.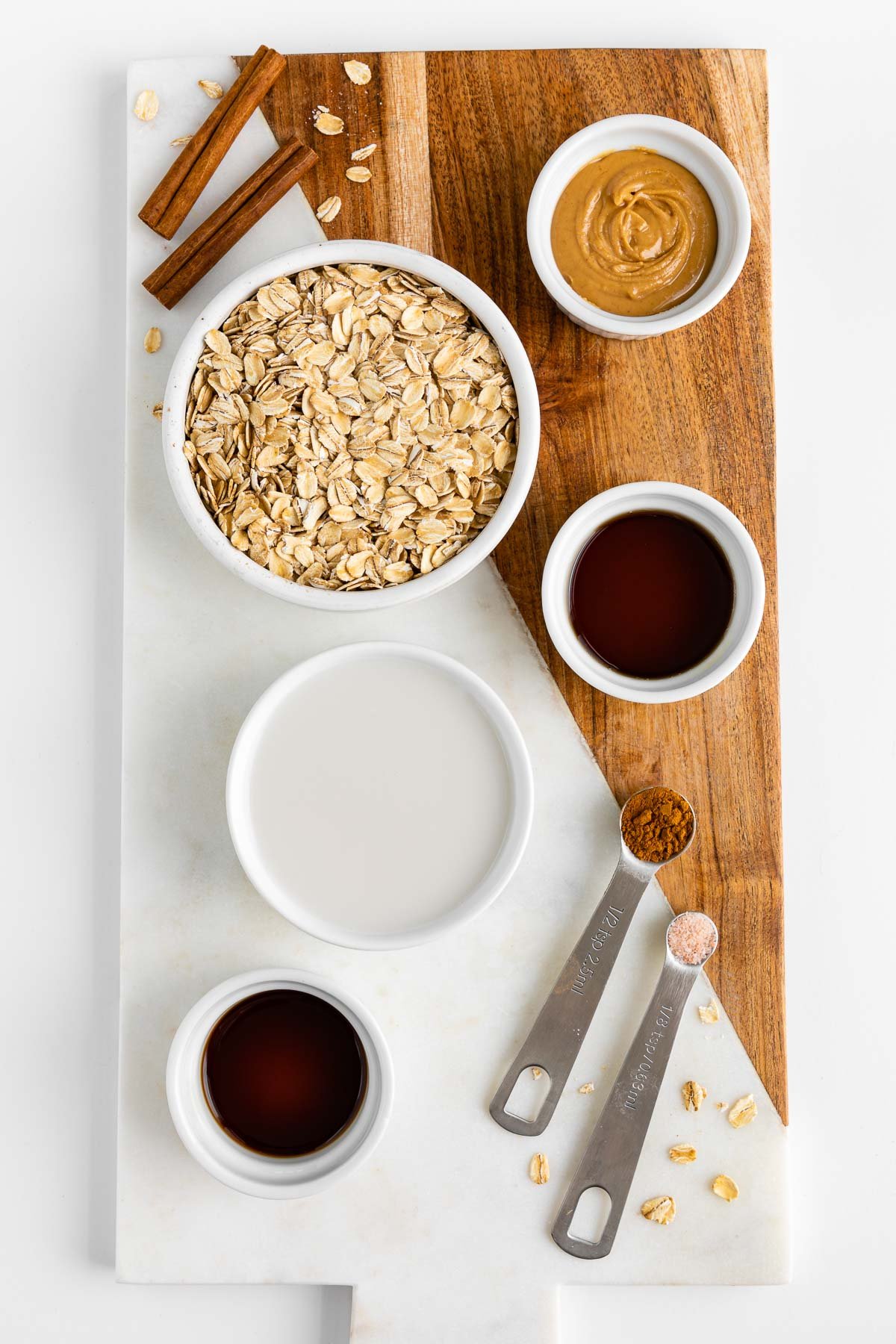 How to make vegan oatmeal
For the full ingredients list and step-by-step instructions, scroll down to view the recipe card below.
This 10-minute breakfast recipe is incredibly easy to make. First, combine all ingredients in a small pot. Transfer the pot to a stovetop and cook over medium heat, stirring frequently so it doesn't stick to the bottom of the pot. Cook until thick and creamy, about 6-8 minutes.
After, transfer the oatmeal to a bowl. Add your favorite toppings. Enjoy!
What's the difference between steel-cut, rolled, and quick oats?
This recipe calls for rolled oats. However, when purchasing oatmeal, you may stumble across a few varieties. There are subtle differences between them. Let me break it down for you!
Steel-cut oats: Steel-cut oats, otherwise known as Irish oatmeal or coarse oats, are the most "whole" variety out of the three. As the name suggests, steel-cut oats are whole grain oats that have been cut into smaller pieces. They require the longest cooking time and have a chewy texture.
Rolled oats: Rolled oats, otherwise known as old-fashioned oats, are whole grain oats that have been steamed and rolled into flat pieces. They have a chewier texture than instant oats, but they are softer than steel-cut oats. Similarly, they cook faster than instant oats but slower than steel-cut oats. Rolled oats hold their shape quite well, too. You'll most commonly find this variety in baked goods, like muffins, cookies, granola bars, and granola.
Quick oats: Quick oats are cooked, dried, then rolled into small pieces. They are smaller than rolled oats and absorb nearly all liquid. Due to that, quick oats often take on a mushy texture. As the name suggests, they cook very quickly. It takes about 1 minute to cook them over the stove or in the microwave. Alternatively you can pour boiling water on top and let them rest for a minute until soft. You may come across "instant oats" in the grocery store – those are just individually-packaged, pre-portioned bags of quick oats.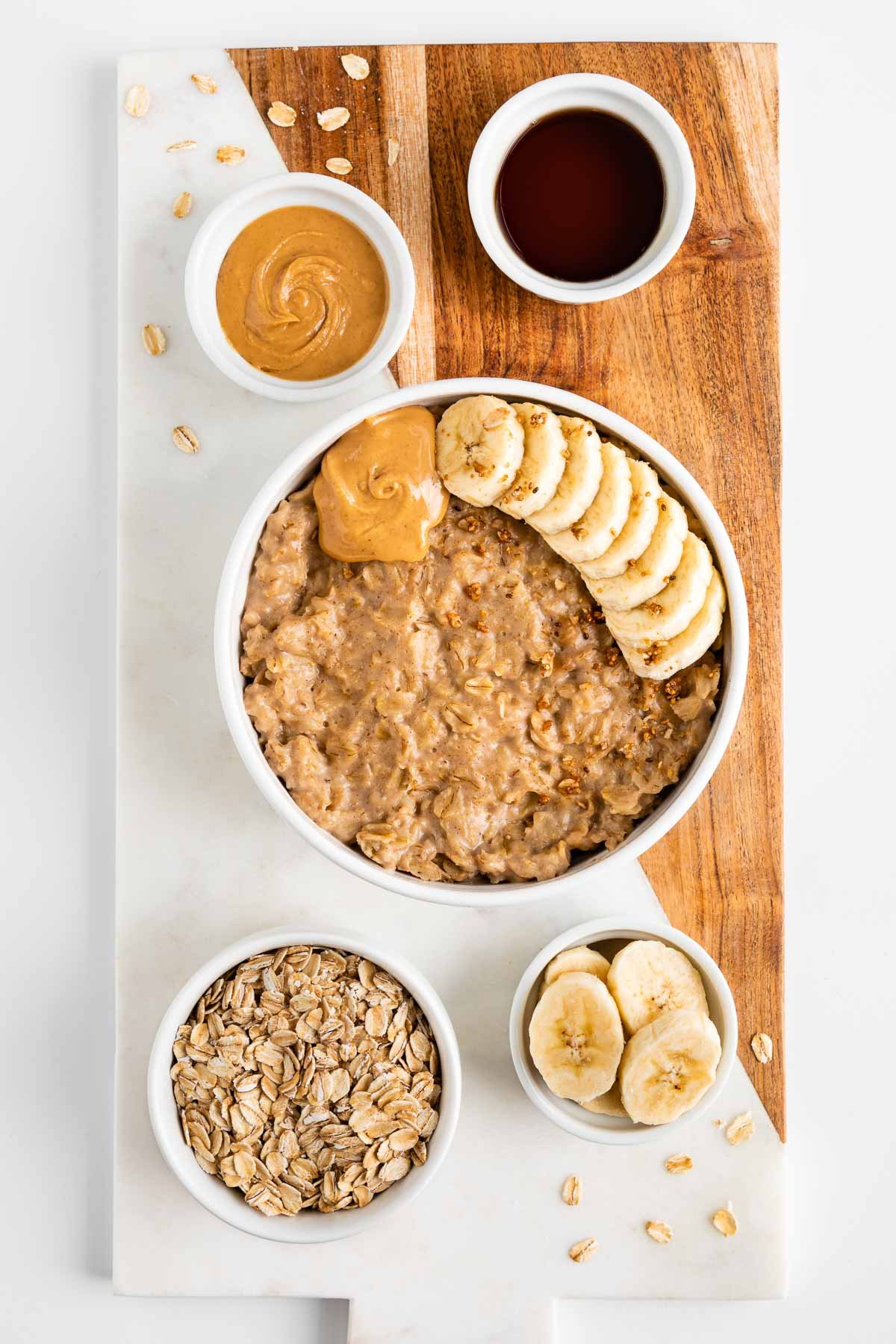 What can I put in my oatmeal?
There are so many options for mix-ins, from spices to fresh fruit and nutritious seeds. I recommend adding these mix-ins while cooking the oats on the stove.
10 healthy things to add to oatmeal
Fruit: Fresh fruit, like berries or sliced banana, can be mixed into any oatmeal bowl.
Nut butter: Stir in a spoonful of peanut butter, almond butter, cashew butter, or tahini.
Protein powder: Mix in a spoonful of protein powder for a protein-packed breakfast.
Spices: Cinnamon, ginger, allspice, turmeric, nutmeg, and pumpkin pie spice are all popular options.
Cocoa or cacao powder: If you're a chocolate lover, add a spoonful of cocoa for a rich chocolatey flavor.
Chia Seeds: They are packed with omega-3 fatty acids, antioxidants, and fiber.
Flax seed: I suggest using ground flaxseed rather than whole flax seeds.
Hemp seeds: Hemp seeds provide added protein and contain several vitamins and minerals.
Jam: Berry jam is a tasty choice. When paired with peanut butter, you'll have yourself a PB&J oatmeal bowl.
Natural sweetener: Sweeten the oatmeal with real maple syrup. If you aren't vegan, you can also sweeten it with honey.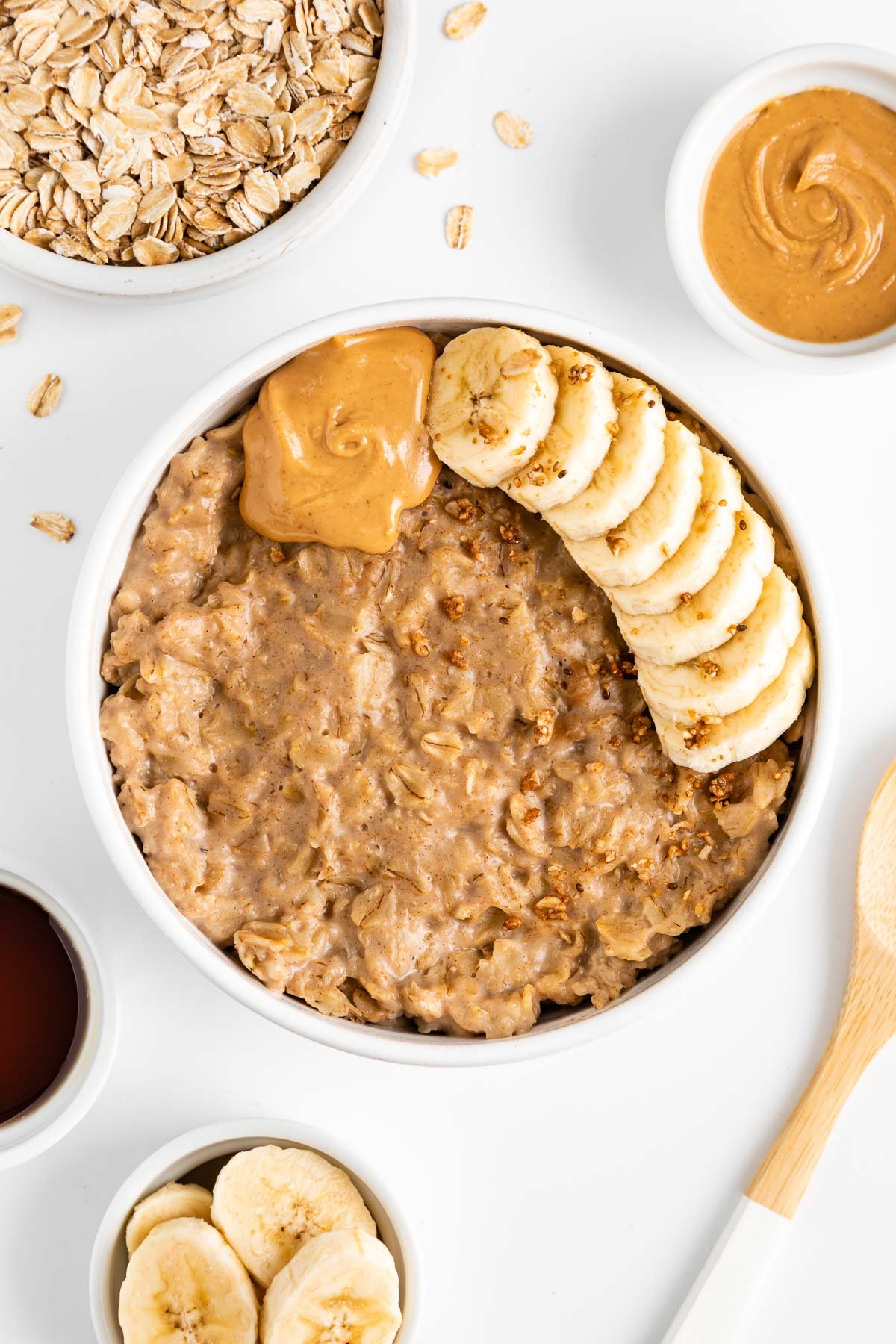 The best oatmeal toppings
Fruit: Top the bowl with fresh fruit, like sliced banana, blueberries, strawberries, raspberries, or chopped apple.
Nut butter: In my opinion, a dollop of nut butter is an essential topping. For this particular recipe, I added some extra peanut butter.
Granola: Sprinkle granola over top for a crunchy texture.
Dark chocolate: Dark chocolate has to be my favorite topping of them all! The warmth of the oatmeal will make it all melty and delicious. As a chocoholic, I'd say this is a must-try item.
Coconut: Coconut shreds or coconut flakes add healthy fats and a tropical flavor.
Nuts: Toss chopped peanuts, sliced almonds, crushed pecans, crushed walnuts, or cashews on top.
Seeds: Pumpkin seeds, hemp seeds, chia seeds, or flax seeds can be added.
Dried fruit: Choose from goji berries, dried mulberries, raisins, cranberries, or dried blueberries.
Cacao nibs: Cacao nibs are a healthier alternative to chocolate chips.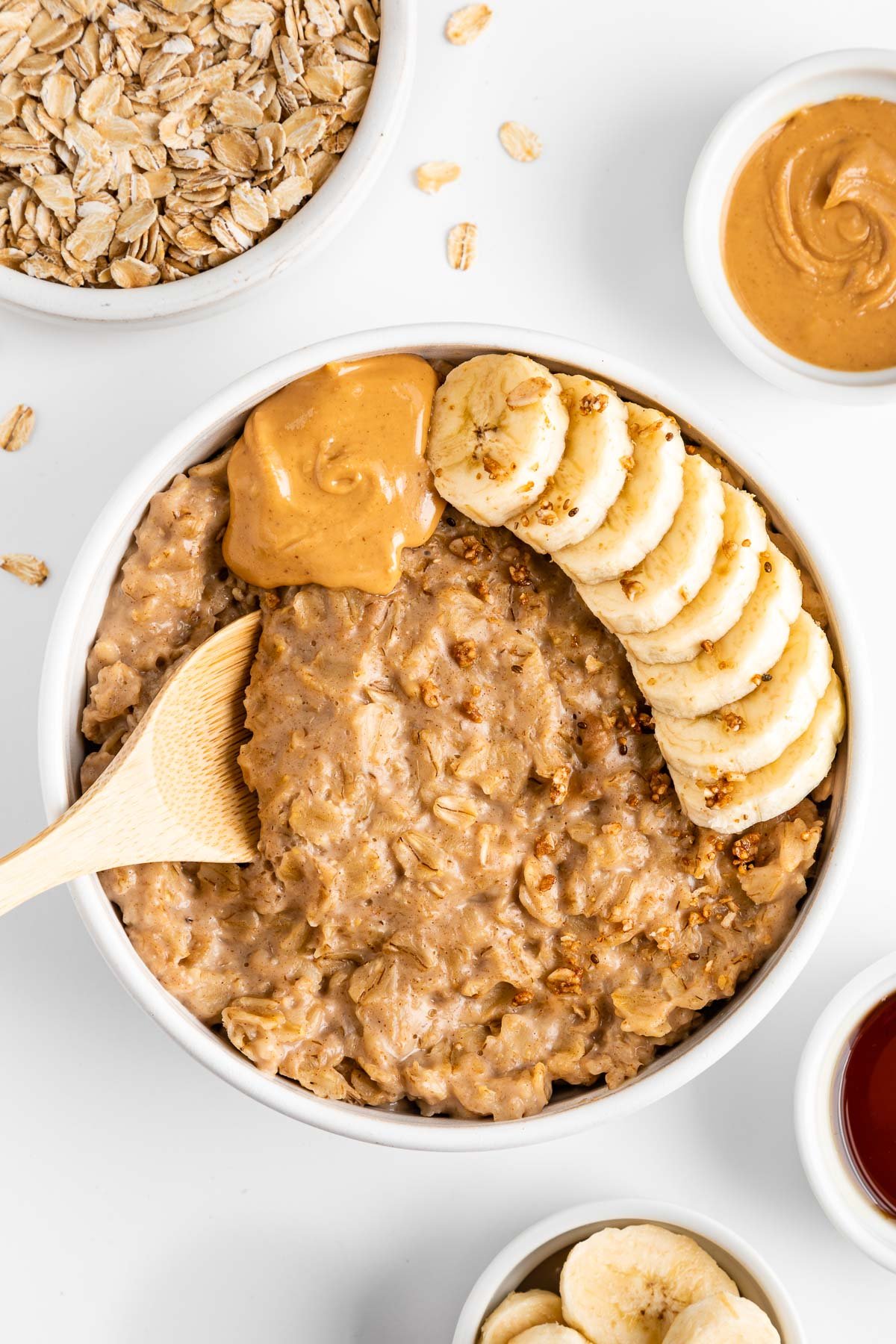 More vegan oatmeal recipes
If you try this Peanut Butter Oatmeal, please let me know your thoughts by leaving a rating and comment below! Ready for more? Subscribe to my newsletter or follow along on Instagram and YouTube!
Print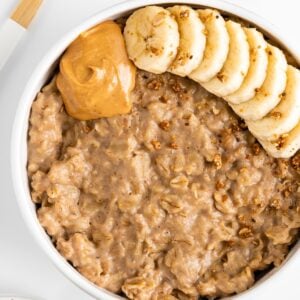 Peanut Butter Oatmeal
Author:

Kaylie Grace

Prep Time:

3 minutes

Cook Time:

7 minutes

Total Time:

10 minutes

Yield:

2

servings

1

x

Category:

Breakfast

Method:

Cook, Stove

Cuisine:

American

Diet:

Vegan
---
Description
Peanut butter oatmeal is a quick, easy, and healthy vegan breakfast! It's made with simple ingredients including rolled oats, peanut butter, cinnamon, and plant-based milk. This recipe is vegan, dairy-free, gluten-free, and ready in 10 minutes. It's a warm, cozy, and comforting meal that provides long-lasting energy to fuel the day ahead!
---
1

cup

rolled oats

1

cup

plant-based milk

1

cup

water

2 tbsp

peanut butter

1

–

2

tbsp maple syrup

1/2 tsp

vanilla extract

1/2 tsp

cinnamon

1/8 tsp

salt
---
Instructions
Combine ingredients in a small pot.
Transfer the pot to a stovetop and cook over medium heat. Frequently stir the oatmeal to be sure it doesn't stick to the bottom of the pot. Cook oatmeal until thick and creamy, about 6-8 minutes.
Transfer oatmeal to bowl(s). Add your favorite toppings. Enjoy!
---
Notes
Check the full blog post for mix-ins and topping ideas.
If you're following a strict gluten-free diet, be sure to check that your oats are certified gluten-free.
---
Nutrition
Serving Size:

1 serving

Calories:

315

Sugar:

14g

Fat:

11g

Saturated Fat:

2g

Carbohydrates:

45g

Fiber:

6g

Protein:

9g
Keywords: peanut butter oatmeal, vegan oatmeal recipe
This post contains affiliate links. If you make a purchase through one of these links, I earn a small commission at no additional cost to you. I only recommend products I personally use, trust, and love!